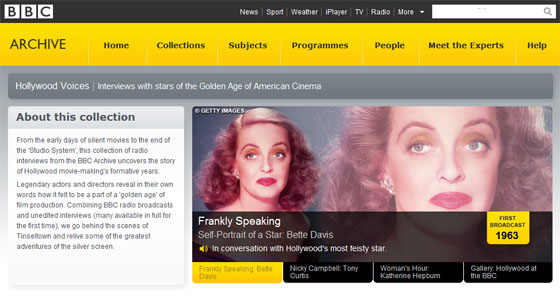 The BBC have released a lot of their audio and visual archives online and it includes a treasure trove of  interviews with Hollywood legends.
The scope is pretty breathtaking and includes interviews with icons such as Charlie Chaplin, Rita Hayworth, John Huston, Gary Cooper, John Wayne, James Stewart, Ingrid Bergman and Katharine Hepburn.
Of particular note are those we don't often hear on the TV or radio, such as Buster Keaton, Mary Pickford and Boris Karloff.
Here is an index of the current available interviews, which you can listen to by clicking on the relevant links below.
1950s
1960s
1970s
1980s
1990s
2000s-
> BBC Archive and follow them on Twitter
> Photo galleries of stars at the BBC 1930-1950 and 1950-70
> James Bond archive at the BBC