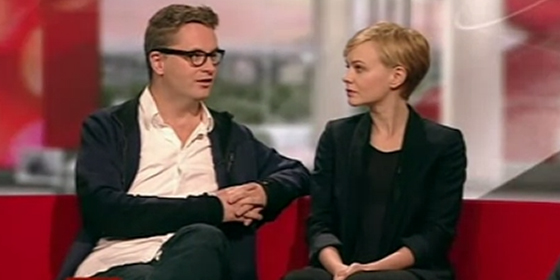 Director Nicolas Winding Refn was promoting Drive on BBC Breakfast when he used some rather creative language to describe the violence in the film.
The look on Carey Mulligan's face at 0.11 is priceless.
Although some cynics may smell a calculated publicity ploy here, it seems to me like he was tired and after doing rounds of press discussing his latest work just got muddled as to where he was and what kind of language he should be using.
But what's interesting to note how quickly parts of the British media – especially the dead tree kind – seize on this kind of slip up.
Haven't we all seen The Sex Pistols on Bill Grundy, Helen Mirren's recent use of the s-word or Jane Fonda drop the C-bomb live on US morning television?
It seems strange that British newspapers act shocked at this when some have supported facism and hacked the phones of murder victims, but maybe I'm just being old fashioned.
Note the obligatory use of the phrase 'choked on cereal' or 'choked on cornflakes' in any story covering this world-shattering event.
Plus, what exactly can the presenters or broadcaster actually do apart from apologise and move swiftly on?
I know that as we speak there is some poor soul deep within Television Centre filling out a compliance form, which have been enforced on shows since the Jonathan Ross and Russell Brand voicemail affair, which is listed in Wikipedia with the hilariously concise title of "Russell Brand Show prank telephone calls row".
But let me save them some time and encourage them to fill a blank sheet of paper or empty web form with the following:
Danish director of cool new film swore live on air. Presenters apologised. Move on.
By the way Drive is really good, if a little violent in places, and apparently the violence is a little like… [REDACTED].
> Full review of Drive
> Very funny Stars Wars vs Drive mashup trailer
> BBC Breakfast slip up when unedited audio of Christian Bale was aired