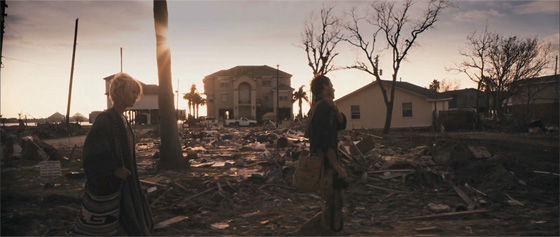 A low budget monster movie fused with a mumblecore romance is a refreshing change for the genre even if excitement is lost at the expense of mood.
Set a few years after mysterious alien creatures have landed in Mexico, a photojournalist (Scoot McNairy) is ordered to escort his publisher's daughter (Whitney Able) to the safety of the US.
However, due to various circumstances it becomes a difficult task as they venture through the 'infected zone', which contains various giant monsters which can harm humans and property.
Although it begins with a dramatic opening sequence, director Gareth Edwards has opted to invert the traditional monster action movie with a greater focus on personal relationships, as creatures for part of the background atmosphere.
Shot on a low budget and relying heavily on improvisation, the film paints a convincing picture of life during a social crisis, as the characters are forced to improvise and travel with a constant threat lurking in the background.
Technically the film duplicates the look of much bigger budget rivals with clever use of digital cameras and also uses the landscapes of Guatemala, Mexico and Texas to full effect.
A special effects professional, Edwards utilises his skills to augment the natural landscapes with digitally created objects including helicopters, enormous barriers and various fantastical creatures.
For the most part this creates a highly believable setting, further heightened by the naturalistic performances from his two leads and the non-actors who populate the supporting cast.
McNairy and Able have a chemistry and a believable awkwardness which provides a solid foundation for what is essentially a road movie as they journey with bodyguards and mercenaries to the US border.
Shot guerrilla-style, the film has an impressively convincing feel which stands out because it eschews many of the conventions of the monster movie, even though the setup has many similarities to Cloverfield (2008) and District 9 (2009).
It could be argued that it is too successful in sacrificing adrenaline for realism. Apart from a couple of sequences, especially the climax, audiences might be surprised at the lack of excitement on screen.
More of a relationship movie than one might, for a film called Monsters there isn't actually a lot of monster action in it.
This paradox means it lacks the traditional excitement of the genre, but it still has a unique flavour as a kind of mumblecore sci-fi drama and a clever, narrative twist should provide audiences with a talking point as they leave the cinema.
Technically it punches well above its weight, with Edwards combining several roles with impressive aplomb: in addition to directing he also served as D.O.P and visual effects artist.
But this is an accomplished film across the board: the effective use of sound, Colin Goudie's editing and an ambient electronic score by Jon Hopkins are also crucial in giving the film a convincing feel and atmosphere.
Monsters is a striking debut and, although probably costlier more than some reports have suggested, bodes well for Edwards' future efforts as a director.
> Official site
> Monsters at the IMDb