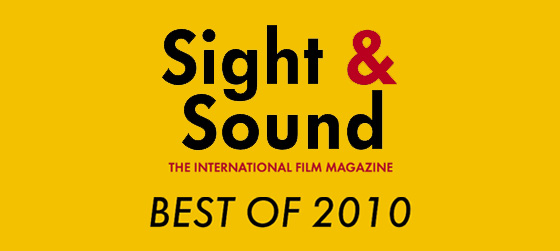 Sight and Sound have selected their best films of 2010 and it has been topped by The Social Network.
They asked 85 critics from across the globe to select their five favourite films of the past year and the titles that appeared the most were then selected for this list which will appear in their January 2011 issue.
(Note that the list can be a little out of sync with US and foreign release dates).
The final selection has already reached the magazine subscribers, although it won't be on the Sight and Sound website until December 7th.
Here is the list in full (with some ties):
1. The Social Network (Dir. David Fincher, USA)
2. Uncle Boonmee Who Can Recall His Past Lives (Dir. Apichatpong Weerasethakul, Thailand)
3. Another Year (Dir. Mike Leigh, UK)
4. Carlos (Dir. Olivier Assayas, France/Germany)
5. The Arbor (Dir. Clio Barnard, UK)
=6. I Am Love (Dir. Luca Guadagnino, Italy)
=6. Winter's Bone (Dir. Debra Granik, USA)
=8. The Autobiography of Nicolae Ceausescu (Dir. Andrei Ujică, Romania)
=8. Film Socialisme (Dir. Jean-Luc Godard, France/Switzerland)
=8. Nostalgia for the Light (Dir. Patricio Guzmán, France/Germany/Chile)
=8. Poetry (Dir. Lee Chang-dong, South Korea)
=8. A Prophet (Dir. Jacques Audiard, France)
=13. Certified Copy (Dir. Abbas Kiarostami, France/Iran/Italy)
=13. Meek's Cutoff (Dir. Kelly Reichardt, USA)
=15. Dogtooth (Dir. Giorgos Lanthimos, Greece)
=15. Enter the Void (Dir. Gaspar Noé, France/Germany/Italy)
=15. Mysteries of Lisbon (Dir. Raúl Ruiz, Portugal/Brazil/France)
=15. Of Gods and Men (Dir. Xavier Beauvois, France)
=19. Aurora (Dir. Cristi Puiu, Romania/Switzerland/Germany/France)
=19. Exit Through the Gift Shop (Dir. Banksy, UK/USA)
=19. Four Times (Dir. Michelangelo Frammartino, Italy/Switzerland/Germany)
=19. The Ghost Writer (Dir. Roman Polanski, France/Germany/United Kingdom)
=19. Over Your Cities Grass Will Grow (Dir. Sophie Fiennes, UK/France/Netherlands)
> Sight and Sound (follow them on Twitter or become a fan on Facebook)
> MUBi and InContention on this year's list
> Wikipedia on 2010 in film