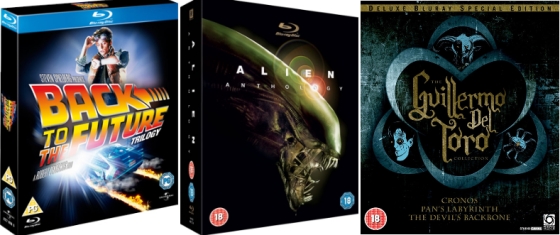 DVD & BLU-RAY PICKS
Back to the Future Trilogy (Universal): The time-travel comedy trilogy gets released on Blu-ray for the first time and Universal have put together a package which does full justice to these inventive and much loved films.
A lot of viewers will be pleasantly surprised how good a job Universal has done with the audio and visual transfer (screenshots can be seen here) and it certainly gives them an added kick if you haven't seen them in a while. But for most people the reason for getting this box set will be the huge array of extras detailing the production. [Read the full review here]
Alien Anthology (20th Century Fox): Although this is essentially a Blu-ray upgrade from the previous Alien Quadrilogy boxset, that was one of the best boxsets in living memory.
However, the HD transfers for Alien (1979) and Aliens (1986) have been done with considerable care and attention and there is extra material which will be of interest to fans of the series.
James Cameron personally oversaw the new transfer of Aliens, the audio for Alien 3 has been upgraded with Charles Dance and Lance Henriksen recording new dialogue and there is a previously unreleased 'Alien 3′ documentary which features visual evidence of the nightmare David Fincher had on the set of his directorial debut. [Read the full review here]
The Guillermo Del Toro Trilogy (Optimum): Mexican director Guillermo Del Toro is recognised as one of the world's most visually inventive directors, balancing a career torn between films such as Hellboy with smaller, personal projects such as the three films brought together in this collection – The Devil's Backbone (2001), Pan's Labyrinth (2006) and his debut feature, Cronos (1993).
Special Features include:
UK Exclusive interview with Guillermo Del Toro
Exclusive pages from Guillermo Del Toro's The Strain Trilogy
Brand new interviews
Featurettes
Motion Comics
Early short film Geomtria
Sketches and storyboards
Galleries
Trailers
ALSO OUT
13 Hrs (High Fliers Video Distribution) [Blu-ray / Normal]
8 Mile (UCA) [Blu-ray / Normal]
A Nightmare On Elm Street (Warner Home Video) [Blu-ray / with DVD and Digital Copy]
Baby Mama (UCA) [Blu-ray / Normal]
Billy Madison (Universal Pictures) [Blu-ray / Normal]
Bulletproof (UCA) [Blu-ray / Normal]
D-Tox (UCA) [Blu-ray / Normal]
Dante's Peak (Universal Pictures) [Blu-ray / Normal]
Dead Silence (Universal Pictures) [Blu-ray / Normal]
Dinosaurs Alive! (Cornerstone Media Int.) [Blu-ray / with 3D Version]
First Blood/Cliffhanger/Lock Up (Optimum Home Entertainment) [Blu-ray / Box Set]
Happy Gilmore (Universal Pictures) [Blu-ray / Normal]
Hard Rain (Universal Pictures) [Blu-ray / Normal]
Iron Man 1 and 2 (Paramount Home Entertainment) [Blu-ray / Normal]
Iron Man 2 (Paramount Home Entertainment) [Blu-ray / Normal]
Killers (Lionsgate UK) [Blu-ray / Normal]
Leatherheads (UCA) [Blu-ray / Normal]
Make Way for Tomorrow (Eureka) [Blu-ray / Normal]
Mercury Rising (Universal Pictures) [Blu-ray / Normal]
Scent of a Woman (Universal Pictures) [Blu-ray / Normal]
Smallville: Season 9 (Warner Home Video) [Blu-ray / Normal]
Spirits of the Dead (Arrow Films) [Blu-ray / Normal]
Star Wars – The Clone Wars: Season 2 (Warner Home Video) [Blu-ray / Normal]
Taking Woodstock (UCA) [Blu-ray / Normal]
The Break Up (Universal Pictures) [Blu-ray / Normal]
The Express (UCA) [Blu-ray / Normal]
The Game (Universal Pictures) [Blu-ray / Normal]
The Holiday (Universal Pictures) [Blu-ray / Normal]
The Interpreter (Universal Pictures) [Blu-ray / Normal]
The Jackal (Universal Pictures) [Blu-ray / Normal]
The Skeleton Key (Universal Pictures) [Blu-ray / Normal]
Total Recall/Raw Deal/Red Heat (Optimum Home Entertainment) [Blu-ray / Box Set]
True Legend (Optimum Home Entertainment) [Blu-ray / Normal]
Waist Deep (UCA) [Blu-ray / Normal]
We Own the Night (Universal Pictures) [Blu-ray / Normal]
Wild at Heart (Universal Pictures) [Blu-ray / Normal]
Will Success Spoil Rock Hunter? (Eureka) [Blu-ray / Normal]
You, Me and Dupree (Universal Pictures) [Blu-ray / Normal]
> The Best DVD and Blu-rays of 2009
> UK Cinema Releases for Friday 22nd October 2010 including Paranormal Activity 2, Easy A and Carlos