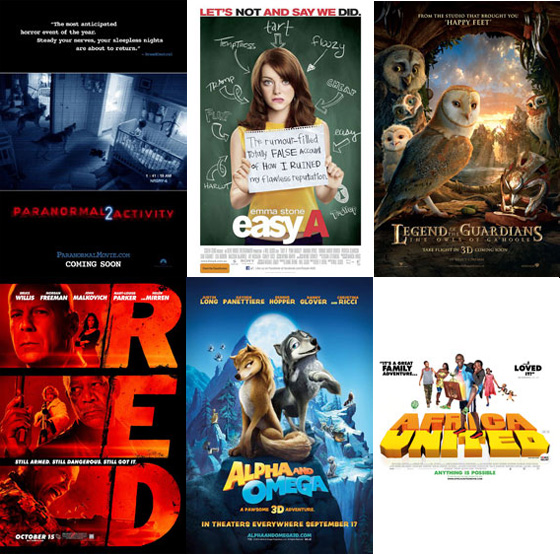 NATIONAL RELEASES
Paranormal Activity 2 (Paramount): The sequel to last year's low budget horror hit begins 3 months before the haunting of Micah and Katie, the married couple in the first film. It focuses on Katie's sister who lives in the same neighbourhood and starts to experience similar problems in her house.
Paramount screened this one very late for UK critics, often a bad sign, but it is actually a passable sequel that uses the same bag of tricks as the first one: a central conceit that you are watching 'found footage'; plenty of scary bumps and  a premise which is basically The Blair With Project in a house. Given the low budget, Paramount will be expecting to reap significant profit from this sequel and it may even replace the Saw franchise as a regular fixture around Halloween. [Nationwide / 15]
Legends of The Guardians: The Owls of Ga'Hoole (Warner Bros.): Zack Snyder's 3D animated debut is about a young barn owl who escapes from an orphanage to the island of Ga'Hoole, where he fights alongside its nobler and wiser elders.
Featuring the voices of Hugh Jackman, Hugo Weaving, Emile de Ravin and Jim Sturgess, it will be shown in 3D and is likely to claim the number 1 spot given its appeal to the half-term family audience. [Nationwide / 15]
Easy A (Sony Pictures): A sharp and surprisingly funny high school comedy about a pupil (Emma Stone) who spreads a rumour about losing her virginity and finds her life resembling Hester Prynne's in 'The Scarlet Letter' – a book she is also studying.
Directed by Will Gluck, it plays like a cross between Mean Girls and Superbad (although not quite as good) with sharp one liners and ribald humour. The supporting cast is very good, featuring Stanley Tucci, Patricia Clarkson and Thomas Haden Church. [Nationwide / 15]
Red (Entertainment One UK): An action-comedy loosely based on the DC comic book series about a former black-ops agent (Bruce Willis) who reassembles his old team.
Directed by Robert Schwentke, it features an impressive supporting cast which includes Morgan Freeman, Mary-Louise Parker, John Malkovich and Helen Mirren. [Nationwide / 15]
Alpha & Omega (Lionsgate UK): A 3D animated comedy about a pair of wolves (voiced by Hayden Panettiere and Justin Long) who are captured by park rangers and taken far away, where they bond despite their differences.
Directed by Anthony Bell, it also features the voices of Christina Ricci, Danny Glover, Dennis Hopper and Larry Miller. Another film aimed at the lucrative half-term family market. [Vue West End & Nationwide / U]
Africa United (Warner Bros/Pathe): A drama about three Rwandan kids who walk 3000 miles to the World Cup in South Africa during 2008.
Directed by Debs Gardner-Paterso, it stars Eriya Ndayambaje, Roger Nsengiyumva, Sanyu Joanita Kintu, Yves Dusenge and Sherrie Silver. [Nationwide / 12A]
Ramona And Beezus (20th Century Fox): An adaptation of the books from the Ramona series of children's novels by Beverly Cleary which follows the misadventures of a young pupil named Ramona Quimby (Selena Gomez). [Empire Leicester Square & Nationwide / U]
ALSO OUT
Carlos (Optimum Releasing): An epic project depicting the career of Carlos the Jackal, it brilliantly recreates the life and times of the Venezuelan terrorist (Eduardo Ramierez) to paint a fascinating portrait of a historical figure.
Directed by Olivier Assayas, it charts his early years as a violent revolutionary in Europe with the Popular Front for the Liberation of Palestine (PFLP); his missions for states such as Iraq, Libya and East Germany; an infamous kidnapping of OPEC oil ministers in Vienna in 1975 and his gradual decline as he sought refuge in Eastern Europe, Syria and Sudan, as he struggled to cope with the end of the Cold War before finally being caught by French agents in 1994.
An ambitious French TV project, it is getting two kinds of theatrical release: a three part five and a half hour cut and a shortened 165 minute version. It will then get released on DVD and Blu-ray soon after along with a variety of on demand options in several countries. [Curzon Mayfair, Picturehouse Greenwich & Nationwide / 15]
* Read my full review of Carlos here *
Mary & Max (Soda Pictures): A claymation feature film about a tale of friendship between two pen pals: Mary, a lonely, eight-year-old girl living in the suburbs of Melbourne, and Max, a forty-four-year old, severely obese man living in New York. Featuring the voices of Toni Collette, Philip Seymour Hoffman, Eric Bana and Barry Humphries. [Odeon Covent Garden & Selected Key Cities]
The Arbor (Verve Pictures): An avant-garde documentary exploring the life and legacy of Rita, Sue And Bob Too! playwright Andrea Dunbar. [Curzon Renoir, Gate, Odeon Panton St., Ritzy & Key Cities / 15]
Chasing Legends (Arts Alliance); A documentary following the 2009 Tour de France largely through the eyes of riders and staff of the HTC-Columbia team. [Nationwide / 15]
The Stoning Of Soraya M (High Fliers): A drama adapted from French-Iranian journalist Freidoune Sahebjam's 1990 book La Femme Lapidée, based on a true story. Directed by Cyrus Nowrasteh, it stars Shohreh Aghdashloo, Jim Caviezel and Mozhan Marnò. [ICA Cinema & Selected Key Cities]
> UK DVD and Blu-ray picks for this week including Amores Perros
> Get local cinema show times for your area via Google Movies