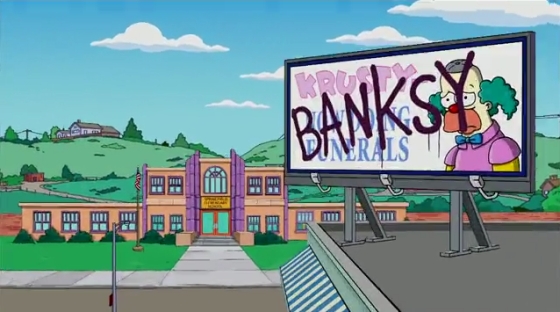 Last night's episode of The Simpsons (entitled 'MoneyBART') aired with a surprisingly political intro directed by British street artist Banksy.
Along with references to himself it culminated in an extended sequence referencing reports that the show outsources much of its animation to a company in South Korea.
Although the show has mocked Fox in the past, according to Time magazine, Banksy admitted that the segment resulted in:
'delays, disputes over broadcasting and even threats of a walk-out from the animation department'
I once asked Simpsons creator Matt Groening how the show got away with taking so many sly digs at their parent network and he said:
If you think of Fox as an Octupus, The Simpsons would be like one suction cup on one of the tentacles, …so it doesn't really bother the rest of the octopus.
The fact that it's one of the most successful shows in television history has also given them a degree of protection.
But even by their own standards, this intro was unusually punchy and also marked the first time an outside artist has contributed to the actual storyboard.
> More about Banksy at Wikipedia
> The Simpsons at the IMDb