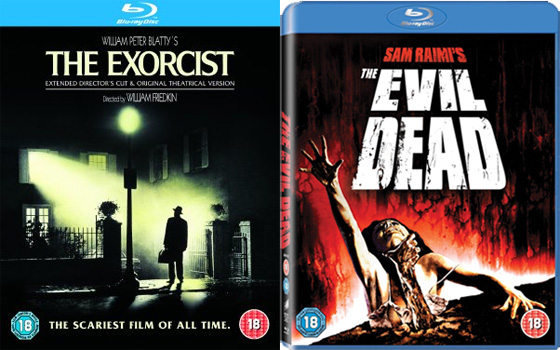 UK DVD & BLU-RAY PICKS
The Exorcist (Warner Bros.): The classic 1973 horror about a young girl (Linda Blair) possessed by an evil spirit and the priests (Jason Miller and Max von Sydow) who try to exorcise the demon, at the request of her distraught mother (Ellen Burstyn).
Directed by William Friedkin, the new Blu-ray features the remastered Director's Cut and Theatrical Cut along with various featurettes and audio commentaries. [Read the full review here]
> The Exorcist at the IMDb
> Buy The Exorcist on Blu-ray from Amazon UK
The Evil Dead (18): Sam Raimi's 1981 low budget horror debut is about a group of college kids who make an ill-fated trip to a remote mountain cabin where all hell breaks loose.
Controversial its day, the film still has a demented, raw energy and this Blu-ray features plenty of supplementary material and a brand new audio commentary from director Raimi, actor Bruce Campbell and producer Robert Tapert. [Read the full review here]
> The Evil Dead at the IMDb
> Buy The Evil Dead on Blu-ray from Amazon UK
ALSO OUT
30 Days of Night: Dark Days (Sony Pictures Home Ent.) [Blu-ray / Normal]
Ben 10: Alien Swarm (Warner Home Video) [Blu-ray / with Digital Copy]
Bend It Like Beckham (Lionsgate UK) [Blu-ray / Normal]
Carlito's Way (Universal Pictures) [Blu-ray / Normal]
David Attenborough: Planet Earth – The Complete Series (2 Entertain) [Blu-ray / Special Edition Box Set]
Devil's Playground (E1 Entertainment UK) [Blu-ray / Normal]
Dollhouse: Complete Seasons 1 and 2 (20th Century Fox Home Ent.) [Blu-ray / Box Set]
Goodnight Mister Tom (ITV DVD) [Blu-ray / Normal]
Hunt to Kill (Anchor Bay Entertainment UK) [Blu-ray / Normal]
Jane Austen Collection (ITV DVD) [Blu-ray / Normal]
Lost in Space (Warner Home Video) [Blu-ray / Normal]
Lost: The Complete Seasons 1-6 (Walt Disney Studios Home Ent.) [Blu-ray / Special Edition Box Set]
MacGruber (Universal Pictures) [Blu-ray / Normal]
Monster House (Sony Pictures Home Ent.) [Blu-ray / 3D Edition]
Night of the Demons (Kaleidoscope Home Ent.) [Blu-ray / Normal]
Ong-Bak: 3 (Optimum Home Entertainment) [Blu-ray / Normal]
Rush Hour (Warner Home Video) [Blu-ray / Normal]
Sharpe: Classic Collection (ITV DVD) [Blu-ray / Normal]
The Losers (Optimum Home Entertainment) [Blu-ray / Normal]
The Rolling Stones: Ladies and Gentlemen – The Rolling Stones (Eagle Rock Entertainment) [Blu-ray / Normal]
The Smurfs and the Magic Flute (Fabulous Films) [Blu-ray / Normal]
The Take (ITV DVD) [Blu-ray / Normal]
Ultimate Gangster Collection (Universal Pictures) [Blu-ray / Box Set]
Veer (Eros International) [Blu-ray / Normal]
Wild Target (EV) [Blu-ray / Normal]
> The Best DVD and Blu-rays of 2009
> UK Cinema Releases for Friday 8th October 2010 including Wall Street: Money Never Sleeps