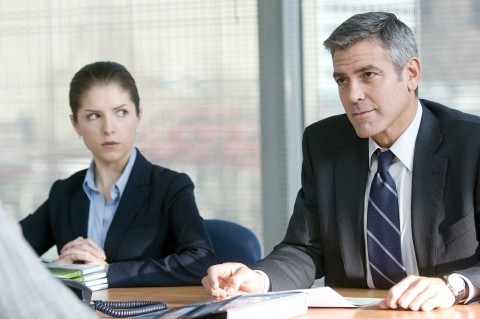 The recession, human relationships, jobs and travel are just some of the issues explored in this smart, funny and thoughtful adaptation of Walter Kim's 2001 novel.
When we first meet Ryan Bingham (George Clooney) in Up in the Air we discover that his job is to inform people that they no longer have theirs. Employed by an Omaha based company, his life is spent flying around the US firing people in a smooth and efficient manner because bosses want to outsource this awkward process.
Free of human relationships, he has become attached to frequent flyer miles and the buzz of being a master at living out of a suitcase. But when his boss (Jason Bateman) informs him that he must train a new recruit (Anna Kendrick) who is advocating firing people via video-link, things begin to change.
Perhaps the most striking aspect of Up in the Air is how it makes you ponder gloomy subjects whilst you laugh at the jokes. Much of the film is a breezy, observational comedy with finely honed lead performances and sparkling dialogue. It feels like a road movie set amongst airports (a 'plane movie', in a sense) as the characters go on a literal and emotional journey across America.
Underneath the witty, often hilarious, surface lies a more serious and perceptive exploration about losing work and finding love. The script even updates the themes of the book to the current era (one sequence is dated as happening in February 2010) by having recently fired workers essentially play versions of themselves.
This potentially clunky device is weaved in skilfully (some audiences may miss it first time, although subconsciously it will register) and sets us up for the latter stages, which show an admirable restraint from the usual Hollywood resolutions. But before we reach that point, there is much to feast on.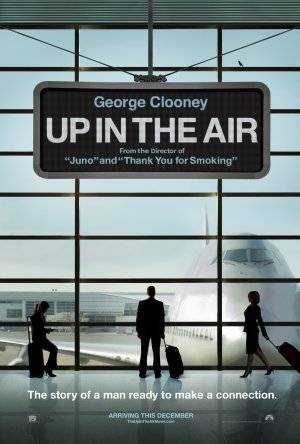 One of the key selling points is George Clooney, a Hollywood star with the charm and wit of a bygone era. Given his commendable passion for doing different kinds of films (some behind the camera) it is easy to forget what a magnetic presence he can be as a screen actor.
With its one liners, speeches and sly underbelly of emotion, this is a role he was almost born to play and he delivers the goods in spades. Not since Out of Sight has he been this Clooneyesque. One line in particular (actually scripted by Reitman's father) is an absolute zinger delivered to perfection, which you'll know when you hear it as the whole cinema will be laughing.
In the key supporting roles Anna Kendrick (who first stood out in 2007's Rocket Science) shows excellent timing as the peppy graduate keen to prove her worth whilst Vera Farmiga is a superb foil for Clooney as his air-mile obsessed love interest. Jason Bateman adds some sly touches as Clooney's boss and there is a nice cameo from Sam Elliott (which may or may not be a reference to the 1988 thriller Shakedown – released in the UK as Blue Jean Cop – which also involves a plane and Elliott).
The technical aspects of the film are first rate across the board; with Dana Glaubetman's editing worthy of special mention as it helps keep proceedings ticking along beautifully. Jason Reitman co-wrote the script with Sheldon Turner and directs with an energetic but delicate touch. Compared to his previous films, it has the delicious wit of Thank You for Smoking and the unsentimental emotions of Juno, but actually surpasses both in terms of mixing up the light and heavy elements.
Unlike a lot of book to screen transitions the film arguably improves the central drama by throwing more profound doubts at the protagonist. I won't spoil the final movement by revealing key details (because that would be silly) but I can't help feeling it will provoke an interesting kaleidoscope of reactions.
When I saw it, an audience member in front of me was laughing loudly at some of the firing scenes (presumably unaware that the people on screen were drawing on recent painful experiences) and it raised some interesting questions. Is this a comedy or a drama? Is their laughter in pain and sadness in humour? How will mainstream audiences in a recession – for whom cinema is traditionally an escape – react to such a film?
Perhaps the human experience of life, work and relationships is bitter-sweet, no matter how rich, employed or happy you consider yourself to be. But that a film from a major Hollywood studio would probe such areas in such an entertaining way is refreshing, particularly as the laughter here provokes genuine thought rather than providing simple relief.
One idea that some audiences will possibly mull on as the end credits roll is that human relationships are what really counts in an increasingly impersonal and technology driven society. But I am not so sure that is the case, even if it is what the filmmakers intended. Wisely, the film leaves out the pat focus-group approved resolution.
Finally, if you actually stay until the very end credits (which audiences often don't) you'll hear something unexpected. I won't reveal what happens but it sounds like the essence of the film, that of connections trying to be made in a world where they are increasingly drying up.
Like the movie, it is funny, sad and makes you think.
Up in the Air screens tonight, Monday and Tuesday at the London Film Festival and opens in the US on December 4th (wide release on Dec 25th) and in the UK on January 15th