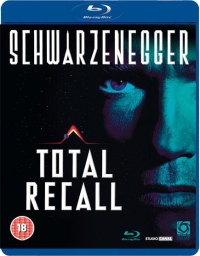 One of the consequences of the recent hook up between Optimum and Studio Canal is that a selection of Arnold Schwarzenegger action movies from the 80s and 90s have been re-released in a box set and as individual titles.
The best of these is Total Recall, the 1990 sci-fi adaptation of Philip K Dick's story 'We Can Remember It For You Wholesale' which stars Arnold as blue collar worker who dreams of Mars.
When he visits a company who can offer him a virtual holiday by implanting memories it inadvertently unlocks his 'real' past as a secret agent and he then has to escape to the red planet for real.
Directed by Paul Verhoeven (after the success of RoboCop in 1987) it is definitely the best of Schwarzenegger's films between the two Terminators and contains some interesting ideas, even if the emphasis is skewed towards action.
The production design is still impressive and the visual effects by Rob Bottin still stand up very well – in many ways they foreshadow how SFX as a whole would develop in the 90s with films like T2 and The Matrix.
One of the highlights on the extras is an excellent commentary with Verhoeven and Schwarzenegger recorded for the previous Special Edition, as they complement each other very well.
Arnold seems especially amused at some of the more gruesome scenes whilst Verhoeven has many thoughtful riffs and views on the plot twists and themes of the story.
The director also frequently reveals that he wanted the film to be even more violent (one scene in particular sent the MPAA crazy) which is saying something, as it is probably one of the most brutal mainstream action films of its era.
That said it is still a solidly entertaining and at times surprisingly clever slice of sci-fi.
The other extras include:
Imagining Total Recall

: A fine 30 minute featurette exploring the original Philip K Dick story and how it came to the screen. Paul Verhoeven, screenwriter Ron Shussett (who also write Alien) and Schwarzenegger all give solid contributions.

Making of Total Recall

: A more modest 8 minute on set making of feature from 1990 that was presumably a TV promo from 1990.

Vision of Mars

: Another short piece (5 mins) on how Mars was visualised for the film.
There are also storyboard comparisons and the requisite trailers and TV Spots.
Here is the original theatrical trailer:
The Blu-ray version is presented in 1080P 2.35:1 Widescreen (VC1) with English 5.1 DTS-HD Master Audio.
However, it doesn't feature any of the extras on the regular DVD disc, so unless you are desperate for the HD version of the film I think the regular DVD with the extras is much better value.
I realise it may be a space issue on the discs but if Blu-ray is going to take off as a format, extras are an essential part of any DVD package.
> Buy on DVD or Blu-Ray at Amazon UK
> Total Recall at the IMDb
> Reviews of the film at Metacritic
> Find out more about Total Recall at WIkipedia