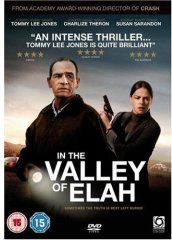 There were quite a lot of films about the current war on terror to come out last year but the best from a major Hollywood studio was In the Valley of Elah.
Written and directed by Paul Haggis it is the story of a retired soldier (Tommy Lee Jones) who is searching for his missing son, who has just returned from duty in Iraq.
When he arrives at his military base in Texas, no-one seems to know what has happened and he enlists the help of a local detective (Charlize Theron) to find out what exactly is going on.
Whilst it didn't make any waves at the box office, it earned Jones an Oscar  nomination for Best Actor and managed to be a quietly subversive film about the effects of the current war on terror on those soldiers asked to fight it.
Based on true events described in a Playboy article by Mark Boal, the film explores many of the hot button issues brought up by the recent Iraq conflict such as: post-traumatic stress, the abuse of prisoners, the recording of the war by soliders and the nature of American patriotism.
Although the main plot ticks along like a procedural police thriller, it actually proves a clever way of uinearthing the disturbing fallout from the recent conflicts and how they relate to how wars are fought.
Optimum have done a nice job with the DVD putting on some extras which inlcude:
'After Iraq' and 'Coming Home' Featurettes: These explore how Haggis approached the film by hiring real soldiers for certain roles, on set interviews with the cast and the parents of the real life soldier who inspired the film.
UK Exclusive Interview with writer-director Paul Haggis
Additional Scenes (including one startling sequence with a wounded soldier)
Trailer
2.40:1 Anamorphic Widescreen
English DD2.0 and DD5.1 Surround
Back in December I spoke to Paul Haggis about the film and you can listen to the interview here:
[audio:http://www.filmdetail.com/podcast/get.php?fla=podcast-2008-01-23-29394.mp3]
You can also download this interview as an MP3 file by clicking here.
In the Valley of Elah is out now on DVD from Optimum Releasing
> Buy the DVD at Amazon UK
> In the Valley of Elah at the IMDb
> Death and Dishonour – The Playboy article by Mark Boal that inspired the film
> CBS article about the same events that inspired the film
> Paul Haggis at the IMDb
> Official website for In the Valley of Elah
> Reviews of the film at Metacritic