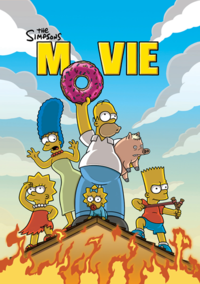 On this podcast we review The Simpsons Movie which has finally made it to the big screen after 20 years on the small screen.
We discuss what goes on (the plot was shrouded in secrecy for a long time), the differences between the show and the movie and whether or not the gags are up to the standard we expect from some of the sharpest writers working in TV.
Plus, check out our interview with Matt Groening and you can win some Simpsons merchandise.
Listen to the review here:
[audio:http://www.filmdetail.com/podcast/get.php?fla=podcast-2007-07-26-17964.mp3]
Download the review as a podcast via iTunes:

The Simpsons Movie is out everywhere from today.
> Download this review as an MP3 file
> Check out local listings via Google Movies
> The official site for The Simpsons Movie
> Listen to our interview with Simpsons creator Matt Groening