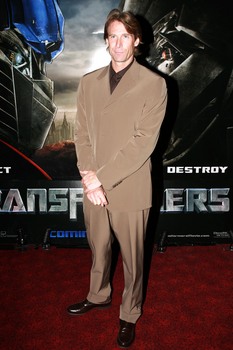 Transformers has just broken the $100 million mark at the US box office.
A combination of savvy marketing, slick direction, ILM's clever SFX, 80's nostalgia and a surprising vein of wit have all contributed to a spectacular opening week.
But despite the film's success, director Michael Bay is not happy with two of the film's producers, Don Murphy and Tom DeSanto. He feels that they have been taking too much credit for the film.
How do we know this? Nikki Finke over at Deadline Hollywood Daily noticed that Bay had written a post on his blog last week, only for it to be taken down soon after.
But thanks an 'eagle-eyed source' and Google's caching abilities it has been preserved for posterity:
Let's get some facts straight
06/29/2007 11:20 PM

The movie is over.

Wow that was a hard one, but I must tell you it was so much fun. The most difficult actors I've ever worked with, besides Bruce Willis, are Optimus Prime and Bumblebee. They took every single one of my days for a year. But they are well worth the work.

I've just traveled 36,000 miles around the world (in two weeks) and had the most amazing premiere at the Taormina film festival in an ancient, Greek-built theatre that existed well before the birth of Christ. I loved seeing the reactions to the film from so many different cultures. This movie really travels around the world. I'm so excited for everyone to see it. Thanks to all you that supported me on this film.

Just so I set the story straight, my budget started a $145 Million it crept to $150 and some change – I'm very proud of that – the fact that we are half the cost of all these other summer blockbusters. I see people doubt that out on the net, but anyone want to challenge me I'll put a ten thousand dollar bet down on the table right now.

Even when the studio tried to ship me out to Canada or shoot down with Aussies – I looked but I knew we were dead up there. I needed my crew that I have been loyal to for years, they are the best in the world. Besides I believe American movies that portray America, should be made in America. I cut my fee 30% so I could make this at home.

I knew this was right for the movie so I asked the other producers to join – Ian and Lorenzo did, and the two others (that came attached to the project) Tom Desanto and Don Murphy did not. That was my introduction to them – they did not want any part of their fee going to make a better movie. Things like that don't usually sit well with me.

Now that the movie is done I get strange questions from the press. Like "how did Tom control the set"? What? " How did Tom and Don control you?" What the fuck. "How was it working with Tom and Don who knew Transformers so well?" "We heard Tom wrote the story – he had a 90 page treatment, right?" Okay stop. Let me take you back in time. Tom and Don are very nice guys, but let's get some facts straight.

Tom had one creative meeting with me for one hour and ten minutes to be exact about a year ago. He told he was the über fan boy and was going to protect me from the minefields. The type of minefields on the Net like "Damn you Michael Bay" "You wrecked my childhood Michael Bay" and other various web death threats I received. Tom proceeded to tell me how much he had problems with the robot designs and script issues.

I realized he was worlds apart in my vision. I said thank you very much, and then showed him my office door – I never really spoke to him again other then to mutter hello. He would occasionally come to the set with guests like it was some theme park. I never spoke creatively with Don. I read his notes kind of trashing the script and making me and the writers feel like a big shit pile. But during production Don was nice to me, he knew I was not going to talk creative with him.

One day not too long ago, the writers of our movie Alex and Bob called me in a panic saying all of a sudden after the movie was almost finished in post that Tom was applying for writer's or story credit. I was appalled because neither the writer's nor I ever saw any treatment. Well, he applied for credit, but the Writer's Guild shot him down, denied him.

But what made my blood curl was something that was on the Net with Tom at the Saturn awards on IESB.net where they interviewed him about the movie – a movie I might add he had not seen yet. He acted very much like he did. Check it out as he vamps through the questions, and how Hugo put his "thumb print on it". Give me a break the guy was lying through his teeth – he had seen nada, nothing until the press screening.

So that's the real truth, I had to say it, cause I'm tired of answering these questions.

What these guys did do was stuck with a 'silly toy movie' and pushed it around town and kept the faith after everyone turned them down, always with the hope that maybe someone somewhere would make it. Now I commend them on that.

Hats off to them, but trying to taking creative credit in the press let me just say it – irks me. Too many credits are given to too many people who had nothing to do with the movie. Hell even investment bankers with not the slightest idea of how to make a movie all of a sudden are big producers in town.

I guess that's how it goes in Hollywood.

Michael Bay

© 2007 michaelbay.com
Don Murphy had already posted his thoughts on the production back in May via his own site:
I think you all know by now I don't really have an ego. I got paid well for doing the film. It was my job. LOTS of other people played an important part in the film, some waaay more than me. Steven maybe didn't have the idea to do the film but without him it never would have happened.

A cat named Adam Goodman at Dreamworks who you probably never heard of put his head on the line and made the film happen. If not it never would have been made. Alex and Roberto as I said above. John Rogers early on. An exec still at Dreamworks, great guy, Marc Haimes, and a DW exec who just left, John Fox were crucial in making it happen time and again.

A woman no longer at Hasbro, Carol Monroe started the ball rolling. And Brian Goldner, the CEO who trusted us all, while watching over us all, made it happen more than most people realize. And his team in Rhode Island. Desanto was by my side and fought the good fight often better than I did. HE's actually more of a fan that I am.

Ian Bryce- I mean without him and his assistant Michelle this film never gets finished on time or even close to budget and it did both. And for all of you haters, this film is Michael Bay's above and beyond every one else. He made every decision. I watched as he sometimes set up shots, blocked the scenes and operated the camera. His work ethic was stronger than any other director I've seen.

I think maybe he has been SO successful so young for so long people like to hate him. But when you see that movie and LOVE IT like I know you will, there is a reason it says A MICHAEL BAY FILM and not a Don Murphy or Pavel Lujardo Film. This guy made it all work. At no point do I or anyone deserve special thanks or special credit. It was a LOT of people, including the whole cast and the film crew, as well as Paramount which is marketing it super well.

I'm just not gonna let anybody rewrite history either no matter how hard they try.
Anne Thompson over at Variety elaborates on the dispute:
While DeSanto and Murphy acquired the movie rights from Hasbro and shopped them, once DreamWorks and Paramount got involved, they placed studio producer Lorenzo DiBonaventura in charge of the movie for Paramount and production exec Adam Goodman for DreamWorks.

DeSanto and Murphy had little to do but handle some marketing and PR chores and deal directly with the fans. Two people, Steven Spielberg and Michael Bay, ran this movie. Thanks to DreamWorks, the script is better than Bay's other pictures, and with a summer blockbuster to his credit, Bay wants to take full responsibility for repairing his reputation post-The Island.
The post by Bay was probably taken down so it wouldn't distract from the film's great opening week at the box office. But such a lengthy diatribe about the production can hardly be dismissed as a late night rant written in haste.
Anyway, isn't there something refreshing about key players venting and giving their thoughts directly via their websites?
Imagine a Hollywood where directors, producers, studio execs and actors all blog about their hopes, dreams and problems.
It might even be as entertaining as the movies they make.
> Find out more about the Transformers movie at Wikipedia
> Check out the latest box office numbers at Box Office Mojo
> Reviews of Transformers at Metacritic
> Michael Bay's official site
> Check out Hollywood Elsewhere where Don Murphy can be found duking it out with fans and detractors in the comment sections