Gregg Goldstein of The Hollywood Reporter says that Robert De Niro and Al Pacino will team up again for the first time since Heat in 1995.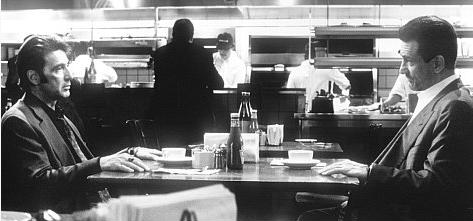 But unlike that film they will share a lot of screen time together:
Robert De Niro and Al Pacino are teaming to play New York police investigators hunting a serial killer in Jon Avnet's $60 million thriller "Righteous Kill" for Avi Lerner's Millennium Films and Emmett/Furla Films.

The independently financed feature written by Russell Gewirtz ("Inside Man," the upcoming "Labyrinth") unites the longtime friends on screen for some 90% of the film — unlike their one shared scene in Michael Mann's "Heat" and no shared scenes in Francis Ford Coppola's "The Godfather Part II."

"You see those two icons onscreen together for virtually the whole film," Lerner said at his Festival de Cannes offices, "(something) never seen before in the history of cinema. It's one of the hardest deals we've ever done to put these two actors together."

Lerner and Randall Emmett closed negotiations on the CAA-packaged project late Thursday morning during the festival.

Righteous Kill starts shooting in Connecticut on August 6th.
In the meantime check out their scene in Heat:
[youtube]http://www.youtube.com/watch?v=cYSzx_zy-98[/youtube]
Images © Copyright 1995 – Warner Bros