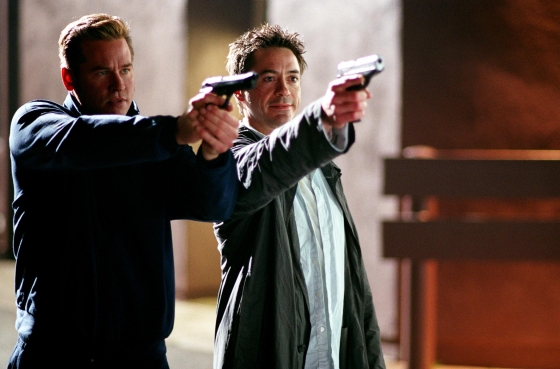 A wonderfully smart and cocky pastiche of the kind of films that writer-director Shane Black used to pen himself in the late 80s.
Throughout its 102 minute running time Kiss Kiss, Bang Bang treads a tightrope.
Any film with a heavy use of voice over and a plethora of self reflexive gags stands in grave danger of being a self indulgent piece of crap.
But despite all this, Shane Black has managed to craft a supremely witty and inventive film that contains two sparkling lead performances from actors whose talents had been submerged by showbiz nonsense in recent years.
The film is narrated by Harry Lockhart (Robert Downey Jr.), a petty thief who stumbles across an audition in New York whilst on the run from police.
Flustered and desperate he manages to impress a producer who mistakenly believes he is some kind of intense method actor. Flash forward to LA and Harry is at a Hollywood party ready for his breakthrough role, when he meets the aptly named private detective Gay Perry (Kilmer).
Together they get involved in a complex noir murder plot that involves – amongst other things – an old high school sweetheart (Michelle Monaghan) and a dead body.
Back in the 80s Shane Black struck gold by creating the Lethal Weapon franchise and influenced countless action films with a weary wisecracking protagonist.
After Warner Brothers bid a then record amount for The Last Boy Scout and were reportedly less than thrilled with its dark edge and underwhelming box office performance Shane Black withdrew from the Hollywood mainstream.
After 1996's The Long Kiss Goodnight his last writing credit was 1999's A.W.O.L – a film whose title was all too prophetic, at least as far as his career was concerned.
Six years on Kiss Kiss, Bang Bang feels like the first Lethal Weapon film with a script polish from Charlie Kaufman.
We have the stock Shane Black ingredients: mismatched partners, witty one liners, a feisty love interest, kidnappings and well orchestrated mayhem. But what we also get is a slick narrative, laced with some irresistible self reflexive humour.
At times the gags are too centred on Hollywood and film making but given the setting that is entirely excusable. All of this is enhanced by some winning lead performances.
Downey Jr. has long been touted as a next big thing but his off screen activities prevented him from the best roles (as well as for a time his actual freedom). Here he shows how good a comic actor he can be and his interplay with Monaghan is always good value.
Even better is his chemistry with Kilmer, whose deadpan delivery and languid charm is an unexpected delight. Together they are reminiscent of Gibson and Glover in the Lethal Weapon films only here we get more comic confusion and less macho posturizing.
Screenwriting gurus might tell you that voiceovers are lazy narrative devices but in the right hands they can work a treat.
The voiceover is one of the best in recent memory, managing to elicit plenty of laughs through Downey Jnr.'s pitch perfect delivery and the wonderfully subversive way it refutes many of the conventions of Hollywood storytelling.
As the plot of Kiss Kiss, Bang Bang jumps through ever more complex hoops, Downey's voice over becomes a welcome relief, reminding you of the absurdities of most thrillers whilst revelling in them at the same time.
Some may not like the smarty-pants tone of Kiss Kiss, Bang Bang and complain that it is all surface, but ultimately that is what is so fun about the film.
If only more films had a surface as delectable as the one Black has constructed here.
Is it shallow? Absolutely. Does it matter? To be honest, most of the time I was too busy laughing to care.
MORE DETAIL
> Official Site
> IMDb Link
> Watch the trailer
> Jonathan Bernstein in The Guardian with an excellent article on the film and the buddy movie in general
> Culturepulp have an extra long 'directors cut' Q&A interview with Shane Black
> Screentalk discuss the script with Shane Black