Since making the transition from TV and stand up to movies in the mid-90s, Adam Sandler has become one of Hollywood's biggest comedy stars.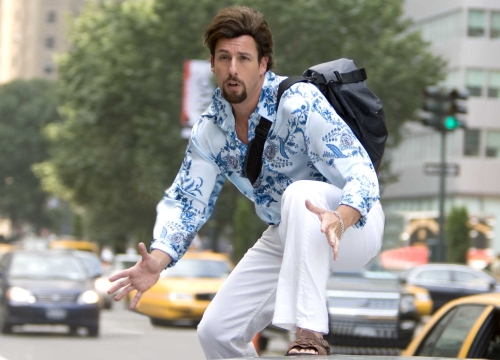 Films such as Happy Gilmore, The Wedding Singer and Big Daddy have all been big hits whilst he has also starred in more discerning projects such as Punch-Drunk Love, Spanglish and Reign Over Me.
His latest film is You Don't Mess With The Zohan, a comedy in which plays an Israeli commando who tires of fighting terrorists and packs it all in so he can travel to America and fulfill his dream of becoming a hairdresser in New York.
I spoke to Adam recently about the film and his career, which you can listen to here:
[audio:http://www.filmdetail.com/podcast/get.php?fla=podcast-2008-08-13-23140.MP3]
You can also download it as a podcast via iTunes by clicking here.
Here is the trailer:
You Don't Mess With The Zohan is out in UK cinemas this Friday
> Download this interview as an MP3 file
> Subscribe to our podcasts vis RSS or iTunes
> Adam Sandler at the IMDb
> Official UK site for the film
[Image courtesy of Sony Pictures © 2008]