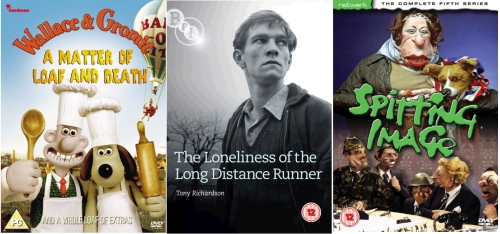 DVD PICKS
When Wallace Met Harvey, A Day In The Life of Nick Park (Sunday Times Piece)
Tell Tale Games – Half hour game
Making Of A Matter Of Loaf And Death
1.78:1 aspect ratio (see DVD Beaver for more details)
Subtitles for the hearing impaired
Commentary by film historian Robert Murphy, with lead actor Tom Courtenay and writer Alan Sillitoe
Video essay by cinematographer Walter Lassally (19mins)
Momma Don't Allow (1956), Tony Richardson's Free Cinema documentary shot by Walter Lassally (22mins)
Illustrated booklet including essays and biographies
Spitting Image – Series 5
(Network): The fifth season of this classic 80s satire show was originally broadcast on ITV in 1988. 
The highlights include Jeffrey Archer appearing on Mastermind, Neil Kinnock being sent on a Mission Impossible, Prince Edward's attempts at guiding the year's Royal Variety Show and Pavarotti giving a star turn at The Last Night of the Yobs. 
There are no extras.