A huge fire broke out earlier today at the Universal backlot in Los Angeles.
Here is a video report from MSNBC:
Sue Ziedler of Reuters reports:
LOS ANGELES (Reuters) – A massive fire broke out at the Universal Studios film and TV studio on Sunday, engulfing one soundstage and burning a New York City street set.

A total of 400 firefighters from several Los Angeles-area fire departments were battling the blaze, said L.A. County Fire Inspector Sam Padilla, adding that three firefighters were being treated for minor injuries.

Padilla said the fire had been contained to a single structure, the "King Kong" exhibit, by 9 a.m. (1600 GMT) and he predicted the fire would be "knocked down" within hours.

"A total of five structures within the New York exhibit, including one soundstage, were lost," said another L.A. County fire inspector, Frank Garrido, who added that the blaze had started in the back-lot area depicting New York City, which was destroyed.

He said about three-quarters of a building housing a "King Kong" exhibit was destroyed.

A building that holds a video vault of original and master versions of old movies had been destroyed and the vault itself had been "compromised."

Ron Meyer, the president of Universal Studios, said, however, that "nothing irreplaceable was lost" in the video vault.

The exact monetary damage had not yet been fully assessed.
Footage from CNN:
Nikki Finke with more details:
The blaze was first reported in a sound stage on the studio back lot at about 4:45 a.m., and about 400 local firefighters were helping Universal Studios' own firefighters quench the fire.

Several acres on the 230-acre back lot were burning at one point, creating a black cloud over the famed Hollywood Hills

According to the fire departmnents, the flames "blew very fast" through the area of the New York street facades, then moved through Courthouse Square where Back To The Future was shot, then engulfed the King Kong building, totally destoying its inside.

Hampering firefirghter efforts inside the video vault building was the thick black smoke billowing from all those plastic containers on fire.

The cause of the blaze is under investigation. But today's inferno at Universal City is eerily burning many of the same back lot areas destroyed by a disastrous blaze in 1990.

In that fire, gale-force Santa Ana winds whipped flames through the New York Street, the set used for the film Ben Hur, and most of the Courthouse Square facades.

That damage was estimated at more than $50 million, and an elaborate reconstruction project took several years to rebuild the sets.

The 1990 fire was officially ruled arson and reportedly deliberately set by a security guard with a cigarette lighter.
UPDATE 03/05/08:
Here are more details about the damage done to the Universal archive.
Jeffrey Wells of Hollywood Elsewhere quotes a studio exec who has emailed him:
A studio exec has written and clarified some points about the Universal fire and the films (prints) that were destroyed.
First, he says, "No archival material is stored at Deluxe — circulating prints of the more popular titles are kept there. Those prints, of course, remain unharmed."

Secondly, "A monumental amount of Universal's archival prints — highly precious, still screened on occasion, and not to be confused with original camera negatives — were destroyed in the fire."

Thirdly, "Even though the negatives are allegedly safe in New Jersey, this is still a colossal tragedy. It will take Universal years — if not decades — to replace all the lost archival prints (assuming they even have the inclination)."

"Also remember that Universal owns pre-1950s Paramount, so much of those archival prints have been lost as well. UCLA maintains nitrate prints of those titles, but those are not lent out for screenings."
Nikki Finke with more details:
…the Universal Studios fire destroyed nearly 100% of archived 35mm prints kept in the so-called "video" vault on the lot.

I am assured by insiders that the negatives are not affected, thankfully — only the actual 35mm prints used for repertory circulation of classic films.

Prints from that very rich vault which also includes pre-1950 Paramount include such classics as Frankenstein, Son of Frankenstein, Duck Soup, Hell's Angels, Brides of Dracula, Incredible Shrinking Man, Buck Privates, Hold That Ghost, and so many, many more.

Some Industry types are emailing me that, with these prints gone, and the expense of making new prints, they fear that art houses and cultural organizations and film societies and festivals may never see these films theatrically again.

But I'm told that Universal has already committed itself to making new prints. Of course, there will be delay and disappointment in the immediate future. But that's only a timing issue.

I'm told it's possible that some of these prints may have duplicates in storage at other locations.
Anne Thompson quotes Paul Ginsberg, Universal's VP of distribution:
It is with great sadness that I must inform you that yesterdays fire destroyed nearly 100% of the archive prints kept here on the lot.

Due to this we will be unable to honor any film bookings of prints that were set to ship from here.

Over the next few weeks and months we will be able to try and piece together what material we do have and if any prints exist elsewhere.
Check out more photos here from Flickr: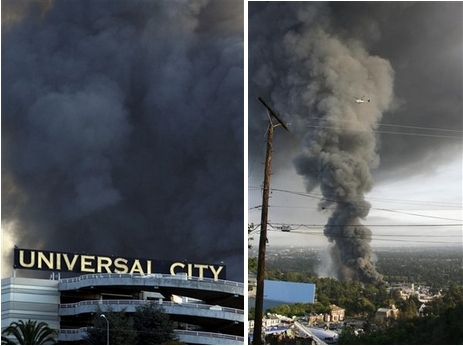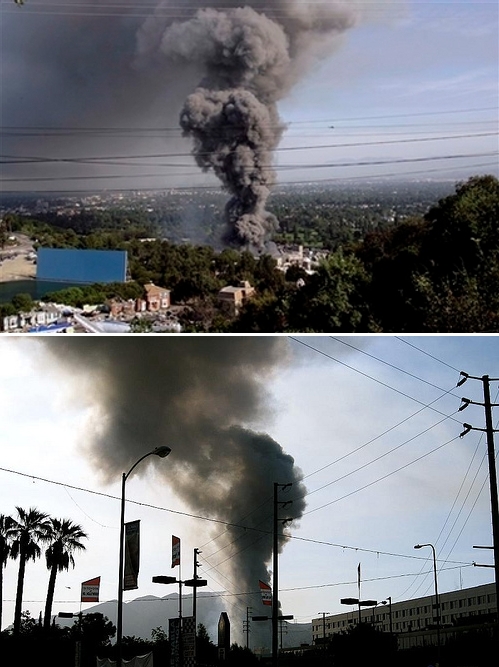 > Reuters and BBC News on the fire
> Universal president Ron Meyer gives a statement on the fire
> More about Universal Studios at Wikipedia