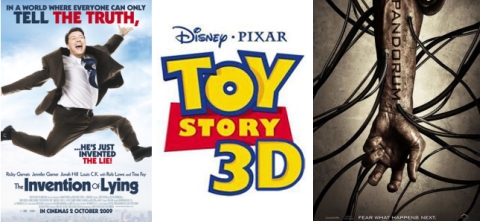 [ad]
NATIONAL RELEASES
The Invention Of Lying (Universal): A comedy set in an alternate universe where everyone tells the truth and is unable to lie, until a forty-something loser (Ricky Gervais) somehow discovers how to do it. After lying to his dying mother about what happens to humans when we die, he quickly becomes a prophet and celebrity, although this still doesn't help him in his attempts to woo the girl of his dreams (Jennifer Garner).
As Gervais has acknowledged, the project has the hallmarks of early Woody Allen (e.g. Sleeper), Monty Python's The Life of Brian and Tom Shadyac's Liar Liar. Although the first act sets up things nicely, the film never really takes off with most of the laughs coming from sharply observed individual gags rather than the overall mixture of character, theme and plot.
Directed by Matthew Robinson and Gervais, it features an incredible supporting cast, which includes Tina Fey, Philip Seymour Hoffman, Jeffrey Tambor, Jason Bateman, Jonah Hill, Christopher Guest and Louis C.K. but it is little more than a novelty as they are often just one note cameos. Although there some solid laughs, the interesting subtext of religion as a lie is ultimately squandered with a conventional narrative about getting the girl and falling in love.
The film was funded by Media Rights Capital (funders of Bruno – another comedy movie featuring an Eleven O'Clock Show almunus) and Universal have UK distribution rights, with Warner Bros releasing it in the US. I suspect it might have a good opening weekend but critical and audience word of mouth is going to be mixed, so it won't be the home run they were perhaps hoping for given how popular Gervais is within the Hollywood community and fans of The Office (still one of the greatest TV shows of the past decade). [Vue West End & Nationwide / 12A]
Toy Story In 3D (Walt Disney): A 3D re-release for Pixar's classic 1995 film about a cowboy toy (Tom Hanks) who is threatened and jealous when a fancy spaceman toy (Tim Allen) supplants him as top toy in a boy's room.
Directed by John Lasseter, this was the film that put Pixar on the mainstream map and the 3D re-release (followed by Toy Story 2) is in anticipation of the third film, which is out next summer. [Empire Leicester Square & Nationwide / PG]
Pandorum (Icon) (Vue West End & Nationwide / 15): A sci-fi actioner about a pair of crew members (Dennis Quaid and Ben Foster) aboard a spaceship wake up with no knowledge of their mission or their identities.
Directed by Christian Alvart, it was shot in Berlin and largely funded by Constantin Film with UK distribution coming from Icon whilst Overture are releasing it in the US. Given the reviews, it won't be a huge hit at cinemas but looks likely to turn a profit in ancillary markets. [Vue West End & Nationwide / Cert 15]
[ad]
IN LIMITED RELEASE
Vinyan (Revolver Entertainment): A couple are looking for their child who was lost in the tsunami – their search takes them to the dangerous Thai-Burmese waters, and then into the jungle, where they face unknown but horrifying dangers. Directed by Fabrice Du Welz and starring Emmanuelle Beart and Rufus Sewell. [Key Cities / Cert 18]
Driving Aphrodite (formerly My Life in Ruins) (Warner Bros.): This film was originally entitled 'My Life in Ruins', which begs the question as to why studios change the titles of films in the IMDb era. It is a romantic comedy set amongst the ruins of ancient Greece, about a tour guide whose life takes a personal detour, while her group gets entangled in comic situations among the ruins. Directed by Donald Petrie, it stars Nia Vardolos, Richard Dreyfuss and Alistair McGowan. US reviews do not suggest a masterpiece.  [Nationwide / Cert 12A]
District 13: Ultimatum (Momentum Pictures): Set in the ghettos of Paris in 2010, an undercover cop and ex-thug try to infiltrate a gang in order to defuse a neutron bomb. Directed by Patrick Alessandrin, it stars Cyril Raffaelli, David Belle and Tond D'Amario. [Apollo Piccadilly Circus / Cert 15]
The Spell (Carey Films): The story of Jenny, a young girl who finds herself unwanted by either of her separated parents and then get a live-in boyfriend Rick's who is involved with witchcraft and black magic which leads to 'the most horrific experience of her young life'. Directed by Owen Carey, it stars Rebecca Pitkin, Julia Curle and Pietro Herrera. [Prince Charles Cinema & Key Cities / Cert 15]
The Beaches Of Agnes (Artificial Eye): An autobiographical documentary about the life of director Agnes Varda. [Barbican, Cine Lumiere, Curzon Renoir & Key Cities / Cert 18]
Army Of Crime (Optimum Releasing): A drama about immigrant guerrilla fighters in Paris during the Nazi occupation. Directed by Robert Guediguian, it stars Virginie Ledoyen and Simon Abkarian. [Curzon Soho & selected Key Cities / Cert 15]
I P Man (Showbox Entertainment): A 2008 semi-biographical martial arts film. It is based on the life of Ip Man, the celebrated martial arts master of Bruce Lee, and the first to teach the Chinese martial art of Wing Chun openly. Directed by Wilson Yip, it stars Donnie Yen and Simon Yam. [ICA Cinema & Key Cities / 15]
Ghost in the Shell 2.0 (Manga Entertainment): A reproduced version of the original 1995 anime film directed by Mamoru Oshii. [ICA Cinema & Key Cities / Cert 15]
Surviving Evil (Kaleidoscope Entertainment): A TV documentary crew arrive on a remote island in the Philippines to film a survival special. Their back-to-the-wild adventure proves to be more terrifying than they ever could have imagined. [Showcase Manchester / 15]
> UK cinema releases for October 2009
> DVD & Blu-ray picks for this week including The New World, Ran, The Deer Hunter, Belle Du Jour, An American Werewolf in London and The Prisoner (W/C Monday 28th September 2009)