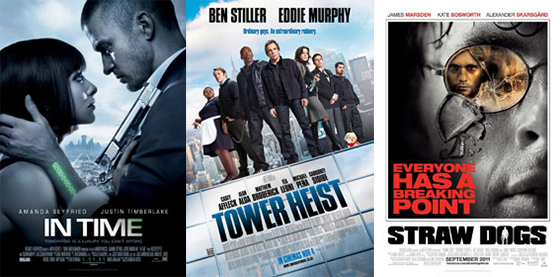 NATIONAL RELEASES
In Time (20th Century Fox): Dystopian sci-fi thriller set in the not-too-distant future where the aging gene has been switched off and time has become the way people pay for luxuries and necessities. Directed by Andrew Niccol, it stars Amanda Seyfried, Justin Timberlake, Cilian Murphy and Olivia Wilde. [Nationwide / 12A]
Tower Heist (Universal): Comedy about a group of hard working guys who find out they've fallen victim to a wealthy business man's Ponzi scheme and the conspire to rob his high-rise residence. Directed by Bret Ratner, it stars Ben Stiller, Eddie Murphy, Casey Affleck and Matthew Broderick. [Nationwide / 12A]
Straw Dogs (Sony Pictures): Remake of the 1971 Sam Pekinpah film relocated to the US South where an L.A. screenwriter (James Marsden) relocates with his wife (Kate Bosworth) and tensions build between them and the locals. Directed by Rod Lurie, it -co-stars lexander Skarsgard and James Woods. [Nationwide / 18]
Machine Gun Preacher (Lionsgate UK): The story of Sam Childers (Gerard Butler) a former drug-dealing biker tough guy who found God and became a crusader for hundreds of Sudanese children who've been forced to become soldiers. Directed by Marc Forster, it co-stars Michelle Monaghan and Michael Shannon.
ALSO OUT
The Future (Picturehouse Entertainment): The latest film from Miranda July is about a couple who adopt a stray cat which changes their perspective on life. It stars July, Hamish Linklater and David Warshofsky. [Selected cinemas / 12A]
Jack Goes Boating (Trinity Filmed Entertainment): The tale of a shy limo driver (Philip Seymour Hoffman) who goes on a blind date with a friend of a friend (Amy Ryan), based on the 2007 play by Robert Glaudini. Directed by Hoffman, it co-stars John Ortiz, Daphne Rubin-Vega and Thomas McCarthy. [Selected cinemas / 15]
Snow Flower and the Secret Fan (20th Century Fox): A story set in 19th century China about the lifelong friendship between two girls who develop their own secret code as a way to contend with the rigid cultural norms imposed on women. Directed by Wayne Wang, it stars Ami Canaan Mann and Gianna Jun.
Weekend (Pecadillo Pictures): This romantic drama about two guys who fall for each other over a weekend has already garnered positive reviews on the festival circuit. Directed by Andrew Haigh, it stars Tom Cullen, Chris New and Laura Freeman. [Selected cinemas / 18]
The Human Centipede 2 (Bounty Films): Horror sequel which caused a brief kerfuffle with the BBFC, which may or may not have been part of an elaborate marketing campaign. Directed by Tom Six, it stars Laurence R. Harvey, Ashlynn Yennie and Maddi Black.
Junkhearts (Soda Pictures): British drama about a returning soldier from Iraq (Eddie Marsan), a homeless teenager (Candese Reid) and a businesswoman (Romola Garai). Directed by Tinge Krishnan, it co-stars Tom Sturridge. [Selected cinemas / 15]
Oslo, August 31st (Soda Pictures): A day in the life of a young recovering drug addict (Anders Danielsen Lie), who takes leave from his treatment center to interview for a job and catch up with old friends in Oslo. Directed by Joachim Trier, it stars Malin Creplin, Akel M. Thanke, and Hans Olva Brenner. [Selected cinemas / 15]
> Get local cinema showtimes at Google Movies or FindAnyFilm
> Recent UK DVD & Blu-ray releases