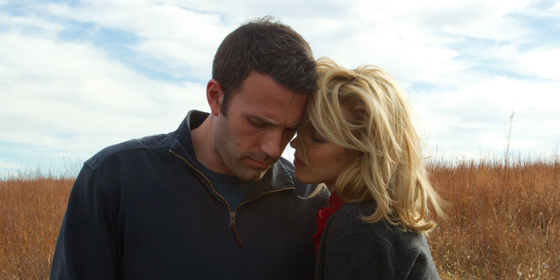 Terrence Malick's latest film premiered last Autumn to largely mixed reviews but whilst it is the most extreme film he has made in his trademark style, it has a refreshing boldness to it along with some beautiful sequences.
Malick's work has frequently eschewed conventional notions of filmmaking with their sparse dialogue, dreamy visuals and obsession with nature.
This has been amplified since his return to Hollywood in 1998 after a self-imposed 20 year exile, where films such as The Thin Red Line (2005), The New World (2005) and The Tree of Life (2011) have gone even further than his earlier work Badlands (1973) and Days of Heaven (1978).
He has never been afraid to tackle big themes such as love, death, nature or even the creation of life itself.
In doing so he has also established certain stylistic flourishes: hushed interior monologues; shots of plants; and use of classical music.
With To the Wonder he has taken his trademark elements and turned them up to the nth degree, but whilst the end result falls short of his best films, it is by no means the unintentional work of self-parody that some have suggested.
The story centres on a man (Ben Affleck) torn between two women: Marina (Olga Kurylenko), a European he has met in Paris who comes back to the United States with him, and Jane (Rachel McAdams), the old lover he reconnects with from his hometown in Oklahoma.
In addition, there is a priest (Javier Bardem) struggling with his faith and lack of hope in the world.
They are the basic building blocks of the story but Malick does something much more radical with the narrative, stitching together what appears to be highly improvised sequences in which characters say little or no conventional dialogue.
If this was any other director then we could be in serious trouble, but with Malick he somehow manages to keep things interesting as the characters thoughts and actions wash over us in a kind of cinematic reverie.
It helps that he is one of the great visual stylists in the history of cinema and aided by his cinematographer Emmanuel Lubezki, puts some remarkable imagery on-screen.
As the characters walk around, often tracked by a seemingly ever-present Steadicam, we get to see them engage in a loose and fluid way that not only suits the narrative approach but after a while becomes hypnotic, seeming imitating the pace of everyday existence.
There is also Malick's trademark use of magic hour, stunning use of natural light and interesting use of locations, which include Paris, Normandy and Bartlesville, Oklahoma.
Plenty of viewers will balk at the methods of To the Wonder but the sheer audacity of the execution is something to behold.
> Official site
> Buy the Blu-ray or DVD at Amazon UK
> Reviews of To the Wonder at Metacritic