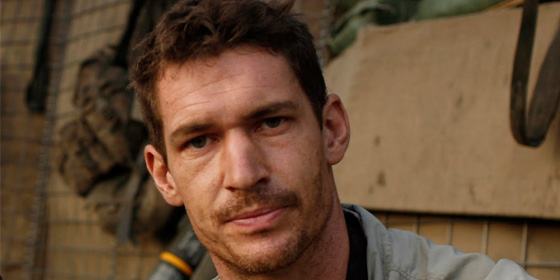 Reports are emerging that filmmaker and photojournalist Tim Hetherington has been killed in Libya.
He was reportedly killed in an attack whilst on assignment covering the Libyan civil war and his last update on his Twitter feed was:
In besieged Libyan city of Misrata. Indiscriminate shelling by Qaddafi forces. No sign of NATO
Fellow photographer Andre Liohn wrote this on his Facebook page earlier today:
Sad news Tim Hetherington died in Misrata now when covering the front line. Chris Hondros is in a serious status. Michel Brown and Guy are wounded but fine.
A regular contributor to Vanity Fair, Hetherington reported on wars for the last decade and along with author and journalist Sebastian Junger, co-directed the recent documentary Restrepo.
Detailing a year in the life of US soldiers stationed in the Korengal valley in Afghanistan, it won the Grand Jury Prize for best documentary at the 2010 Sundance Film Festival and got nominated for the Best Documentary Oscar.
This is a lengthy discussion about the film Hetherington did with Peter Bergen at the New America Foundation last summer:
Also worth looking at is this short film he made called 'Diary', which he uploaded to his offical Vimeo page.
Of it, he says:
'Diary' is a highly personal and experimental film that expresses the subjective experience of my work, and was made as an attempt to locate myself after ten years of reporting. It's a kaleidoscope of images that link our western reality to the seemingly distant worlds we see in the media.
Diary (2010) from Tim Hetherington on Vimeo
He was also a cameraman on the documentaries Liberia: An Uncivil War (2004) and The Devil Came on Horseback (2007), in addition to winning numerous awards for his photography including the World Press Photo of the Year 2007, the Rory Peck Award for Features and an Alfred I duPont award.
> IndieWire report on Hetherington's death
> More on Restrepo at the IMDb and Wikipedia
> Tim Hetherington's official site and Vimeo page