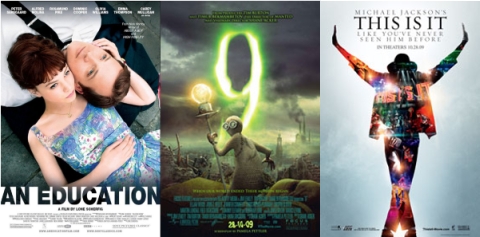 [ad]
NATIONAL RELEASES
An Education (E1 Entertainment): A coming-of-age story based on Lynn Barber's memoir about a teenage girl in 1960s suburban London, and how her life changes with the arrival of a playboy nearly twice her age.
Superbly made and acted it is a likely contender for BAFTAs and Oscars. Read my more considered thoughts on the film here. [Curzon Mayfair, Odeon West End & Nationwide / 12A]
9 (Universal): An animated fantasy about a mechanical humanoid rag doll (9) which explains how humanity, in its blind pursuit of science and technology, went to his doom.
Directed by Shane Acker from his own short film, it features the voices of Elijah Wood, Christopher Plummer, Martin Landau, and John.C Reilly. [Prince Charles Cinema & Nationwide / 12A] (Opened on Weds 28th)
Michael Jackson's This Is It (Sony Pictures): The film of the 02 concerts that never were from the late popstar, culled from rehearsal footage.
Directed by Kenny Ortega and featuring Michael Jackson. [Nationwide / PG] (Opened Weds 28th)
[ad]
IN LIMITED RELEASE
An American Werewolf In London (Universal): A Halloween re-issue for the 1981 horror film directed by John Landis about two American tourists (David Naughton and Griffin Dunne) who get attacked by a werewolf. [Vue West End & Nationwide]
Citizen Kane (bfi Distribution): A re-issue for the 1941 masterpiece about a media mogul (Orson Welles) and the attempts to explain his dying words. [BFI Southbank & Key Cities / U]
Love Exposure (Third Window Films): Running almost four hours, the new film from cult Japanese director Sion Sono is a tour through any number of genres, styles, plot turns, perversions and emotional states. [ICA Cinema]
Philip Pullman's The Butterfly Tattoo (Philm Company): A project based on Philip Pullman's novel of the same name (originally published as The White Mercedes) directed by Phil Hawkins. It used a novel method of financing its production, by selling shares to members of the public. [Selected Key Cities / 12A]
Starsuckers (S2S Distribution): A British documentary exposing the "shams and deceit involved in creating a pernicious celebrity culture". Directed by Chris Atkins, who made Taking Liberties, it shows the production team planting a variety of celebrity-related stories in the UK media, which some papers reprinted without verification. [Curzon Soho & Key Cities / 12A]
Tales From The Golden Age (Trinity Filmed Ent) : A film composed of 5 unconventional short stories, each one dealing with the late communist period in Romania, told through its urban myths from the perspective of ordinary people. The title refers to the alluded "Golden Age" of the last 15 years of Ceauşescu's regime. [Apollo Picc Circus, Barbican, Curzon Renoir, Rio Dalston & Key Cities / 12A]
Dead Man Running (Revolver): Another crime film with Tamer Hassan and Danny Dyer with a guest appearance from Curtis '50 Cent' Jackson. [Nationwide / 15]
The Horseman (Kaleidoscope Entertainment): A drama about a grieving father and a troubled teenage girl as they drive northbound along the outback roads of Australia. [C'World Shaftesbury Ave., Odeon Panton St., S'Case Newham & Key Cities / 18]
Aladin (Eros): A bollywood version of Aladin, which seems to be spelt differently. [C'Worlds Feltham, Ilford, Shaftesbury Ave., Vue Acton & Key Cities]
> UK cinema releases for October 2009
> DVD & Blu-ray picks for this week including Drag Me to Hell and True Blood Season 1 (W/C Monday 26th October 2009)