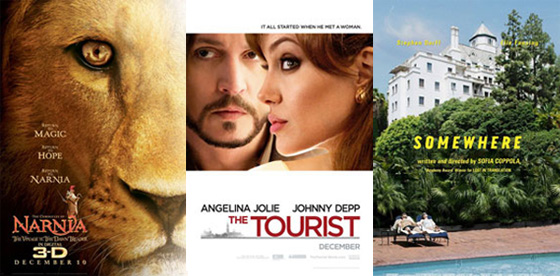 NATIONAL RELEASES
The Chronicles of Narnia: Voyage of the Dawn Treader (20th Century Fox): The third instalment of the Narnia series sees Edmund (Skandar Keynes) and Lucy Pevensie (Georgie Henley) return to the magical land with their cousin Eustace ((Will Poulter), where they meet up with King Caspian (Ben Barnes) for an ocean trip aboard the ship The Dawn Treader.
Directed by Michael Apted, it also stars Tilda Swinton and Simon Pegg in supporting roles. It also has a new distributor, after the relative financial disappointment of the second film, with owners Walden Media opting to replace Disney with 20th Century Fox. Given the popularity of the books and a return to a Christmas release date, this should easily top the box office this weekend, especially with the bump in 3D takings along with a wide 2D release. [Empire Leicester Square & Nationwide / PG]
The Tourist (Optimum Releasing): A thriller about an American tourist (Johnny Depp) visiting Italy, who encounters a mysterious woman (Angelina Jolie) who gets him into trouble.
Despite featuring two of the biggest movie stars on the planet, the director of The Lives of Others (Florian Henckel von Donnersmarck) and the producer of The Departed (Graham King), the buzz on this film is almost non-existent with very few reviews showing up until the week of release. It should have a decent opening weekend, but bad word of mouth might affect its long term box office. [Cineworld Wandsworth, Empire Leicester Square & Nationwide]
Somewhere (Universal): The fourth film from writer-director Sofia Coppola is the story of a pampered movie star (Stephen Dorff) living a life of excess at the Chateau Marmont Hotel in Hollywood before receiving an unexpected visit from his 11-year-old daughter (Elle Fanning).
Although this has divided critics on the festival circuit, it managed to scoop the Golden Lion at Venice and might possibly get some BAFTA and Oscar attention (although it doesn't feel like a serious frontrunner). The opening scene sets the tone and mood, and if you are up for Coppola's wry, stylised portrait of Hollywood, then there is much to appreciate here, especially the two lead performances, some beautiful visuals from Harris Savides and a predictably tasteful soundtrack. [Curzon Soho & Nationwide / 15]
For Colored Girls (Lionsgate UK): Tyler Perry's latest film is adapted from Ntozake Shange's 1975 stage play For Colored Girls Who Have Considered Suicide When the Rainbow Is Enuf. Written, directed and produced by Perry, the film features an ensemble cast including Janet Jackson, Whoopi Goldberg, Phylicia Rashad, Thandie Newton, Kimberly Elise, and Kerry Washington. [Empire Leicester Square & Key Cities / 15]
ALSO OUT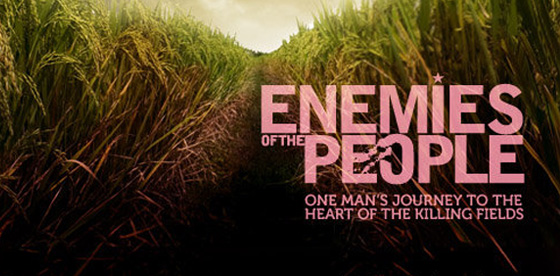 Enemies of the People (Dogwoof): Acclaimed documentary about the genocide committed by the Khmer Rouge in Cambodia which killed around two million people during the 1970s. Written and produced by Thet Sambath and Rob Lemkin [ICA Cinema & Key Cities /
In Our Name (Artificial Eye): British drama about a British soldier (Joanne Froggatt) who returns from her experiences in Iraq and struggles to cope with readjusting to society. Directed by Brian Welsh. [Curzon Renoir & Key Cities / 15]
Lemmy (Miracle Communications): A documentary about the Motorhead frontman, directed by Greg Olliver and Wes Orshoski. [Brixton, Clapham & Stratford East Picturehouses & selected Key Cities]
No Problem (Eros): Bollywood film directed by Anees Bazmee and starring Sunil Shetty, Sushmita Sen and Kangana Ranaut. [Cineworlds Feltham, Ilford, Shaftesbury Ave., Vue Acton & Key Cities / ]
On Tour (Artificial Eye): French comedy-drama directed by Mathieu Amalric, starring Miranda Colclasure, Suzanne Ramsey and Dirty Martini. [Cine Lumiere, Curzon Soho & Selected Key Cities]
Outcast (Vertigo Films): Supernatural thriller directed by Colm McCarthy and starring James Nesbit. [Apollo Piccadilly Circus & Key Cities / 18]
A Serbian Film (Revolver Entertainment): Controversial horror film directed by Srđan Spasojević about a porn star who agrees to participate in an "art film", only to discover that he has been drafted into a snuff movie. [Key Cities / 18]
The Shop Around The Corner (bfi Distribution): Reissue of the 1940 film directed by Ernst Lubitsch, and starring James Stewart and Margaret Sullavan. [BFI Southbank, Filmhouse Edinburgh & Selected Key Cities]
The Thorn In The Heart (Soda Pictures): A French documentary directed by Michel Gondry about his aunt Suzette Gondry and her son, Jean-Yves. [Gate, Ritzy, Screen On The Green & Key Cities]
> Find out what films are showing in your area with Google Movies or Find Any Film
> UK DVD and Blu-ray Releases for Monday 6th December 2010