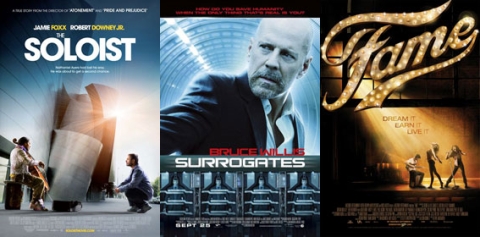 [ad]
NATIONAL RELEASES
The Soloist (Universal): An LA Times journalist (Robert Downey Jnr) comes across a schizophrenic, homeless musician (Jamie Foxx) in Los Angeles and as he writes about him in his column, they gradually affect each other in different ways. Although the studio brass at DreamWorks must have been salivating about possible Oscars when this film went into production last year, trouble was afoot when its Autumn release date was postponed in favour of a spring release.
Although the performances are fine (if a little too mannered in places) the film suffers from being a little too earnest and preachy – especially in its depiction of the homeless – and the central relationship never really catch fire. There are some striking moments and tasteful lensing by Seamus McGarvey but director Joe Wright doesn't really bring the story to life. Universal are releasing the film in the UK and will be expecting so-so box office given the lack of buzz after its relatively quiet Stateside release back in April. [Empire Leicester Square & Nationwide / Cert 12A]
Surrogates (Walt Disney): A sci-fi action drama set in a futuristic world where humans live in isolation and interact through surrogate robots, sees a cop (Bruce Willis) forced to leave his home for the first time in years in order to investigate the murders of others' surrogates.
It is the first film Jonathan Mostow has directed since Terminator 3 and Elizabeth Banks is a producer (who originated the project with Max Handelman), but whether or not Bruce Willis has the box office mojo he once had is debatable. Credit to Disney though, as the trailer for this film has been omnipresent at multiplexes for the last two months (along with that annoying Martin Freeman piracy spot) and it could do decent business if audience word of mouth is good. [C'worlds Fulham Rd., Hammersmith, Odeon Leicester Sq. & Nationwide / Cert 12A]
Creation (Icon):  A period drama which explores the life and discoveries of Charles Darwin (Paul Bettany) and the relationship with his wife, Emma (Jennifer Connelly). Directed by Jon Amiel, it is was adapted for the screen by John Collee, based on Randal Keynes's biography of Darwin, Annie's Box.
It was the opening film at this year's Toronto Film Festival, although the tepid critical reaction is probably the reason it didn't provoke a bidding war rather than the fact that Darwin is a taboo figure in the US, as producer Jeremy Thomas seemed to suggest in a recent interview. Icon will be hoping costume drama lovers or the curious will be up for this but they face an uphill task given the lack of buzz.  [Cineworld Haymarket, Curzon Mayfair & Nationwide / PG]
The Crimson Wing (Walt Disney): Another documentary to be released by Walt Disney under the Disneynature label explores the birth, life and death of a million crimson-winged flamingos in northern Tanzania. Directed by Matthew Aeberhard and Leander Ward. [Cineworlds Haymarket, Shaftesbury Ave. & Nationwide / Cert PG]
Fame (Entertainment): A loose remake of the 1980 film for the HSM generation, this follows a group of dancers, singers, actors, and artists over four years at the New York City High School of Performing Arts – today known as Fiorello H. LaGuardia High School of Music & Art and Performing Arts. Directed by Kevin Tancharoen, it stars Asher Book, Paul McGill, Naturi Naughton and Paul Iacono. Entertainment will be hoping young tweens and teenagers will be getting excited for this, although it seems likely that it will find a better audience on DVD. [Nationwide / PG]
[ad]
IN LIMITED RELEASE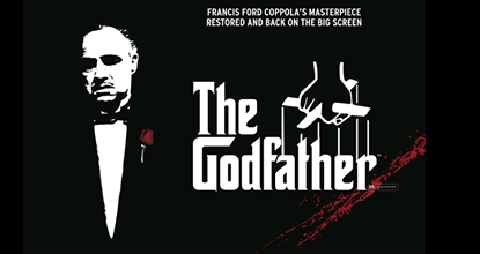 The Godfather (Park Circus): A re-release for Francis Ford Coppola's classic 1972 crime drama which has been digitally restored frame by frame, resulting in a sparkling version. [Apollo Piccadilly Circus, BFI Southbank, Odeon Covent Gdn. & Key Cities / Cert 15]
Heart Of Fire (Metrodome): The true story of a young female soldier who comes of age during the Eritrean civil war. Directed by Luigi Falorni, it stars Letekidan Micael, Solomie Micael, Seble Tilahun and Daniel Seyoum. [ICA Cinema]
Management (Metrodome): A comedy about a traveling art saleswoman (Jennifer Aniston) who tries to shake off a flaky motel manager (Steve Zahn) who falls for her and won't leave her alone. Originally released at the 2008 Toronto film festival, this looks like it will be forgotten soon. [Apollo Piccadilly Circus / Cert 15]
Born In 68 (Peccadillo Pictures): A French drama about two young lovers who change their lives drastically after the 1968 revolt. Starring Laetitia Casta and Yannick Renier, it was directed by Olivier Ducastel and Jacques Martineau. [Renoir & selected Key Cities / Previews 24 Sep / Cert 15]
White Lightnin (Momentum Pictures): An 'imaginary biopic' based on the true story of hard-living, Appalachian tap dance legend Jesco White. Directed by Dominic Murphy. [ICA Cinema, Rich Mix & selected Key Cities / Cert 18]
Jack Said (Optimum Releasing): A British crime drama starring Danny Dyer which is getting a quick release in London before coming out on DVD in a couple of weeks. [Apollo Piccadilly Circus / Cert 18]
> UK cinema releases for September 2009
> DVD & Blu-ray picks for this week including Five Minutes of Heaven, In This World and Sunrise (W/C Monday 21st September 2009)