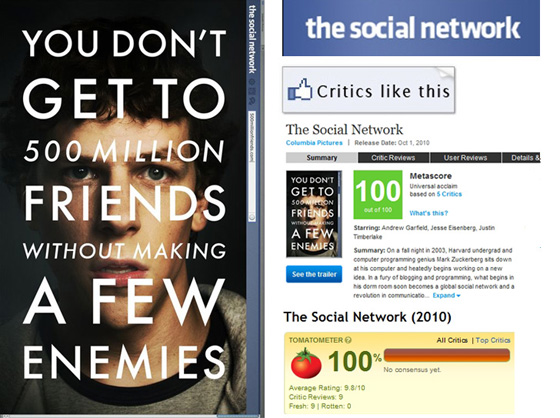 The early reviews for The Social Network have been extremely positive with 100% scores so far on Rotten Tomatoes and Metacritic.
David Fincher's new film about the founding of Facebook opens in the US next week and Sony has already started screening it for selected critics in order to build buzz.
Here are a selection of some of the reviews so far:
Continues Fincher's fascinating transition from genre filmmaker extraordinaire to indelible chronicler of our times –
Justin Chang, Variety
A mesmerizing, bewildering and infuriating protagonist makes this movie about Facebook's creation a must-see – Kirk Honeycutt, Hollywood Reporter
On a first viewing, it seems almost indecently smart, funny and sexy. The second time around… half the time I sat there marveling at the similarities of the story, themes and structure to Citizen Kane. – Todd McCarthy, indieWIRE
It's the finest film in many years to open the New York Film Festival – Lou Lumenick, New York Post
David Fincher's The Social Network is Zodiac's younger, geekier, greedier brother. That means it's good, as in really good. It's the strongest Best Picture contender I've seen so far this year – Jeffrey Wells, Hollywood Elsewhere
…the most culturally relevant film Scott Rudin has produced since 1998′s "The Truman Show." But while that film was a potent forecast of where we were heading as an entertainment-hungry society, this one is no less significant for its depiction of the here and now. – Kris Tapley, In Contention
At the moment it has 100% rating on Rotten Tomatoes and a 100 score on Metacritic, but this will obviously change once more reviews are published.
I suspect there could be something of a traditional media backlash to the fervour of these early reactions, like there was for Inception earlier this year.
However, this is a good start for Sony and the team positioning this for a shot at the Oscars. The most interesting question is how much awareness there is amongst the broader public.
Amongst film and tech geeks on the web it is eagerly anticipated, but how many of Facebook's estimated 500 million users are actually going to see this?
The marketing campaign has been slick and clever but it will be fascinating to see how mainstream this film actually goes.
Reportedly Mark Zuckerberg has seen it, even though he said he wouldn't. But did he like it?
I somehow doubt it will end up on his list of favourite movies and TV shows.
> Official site
> Reviews of The Social Network at Rotten Tomatoes and Metacritic