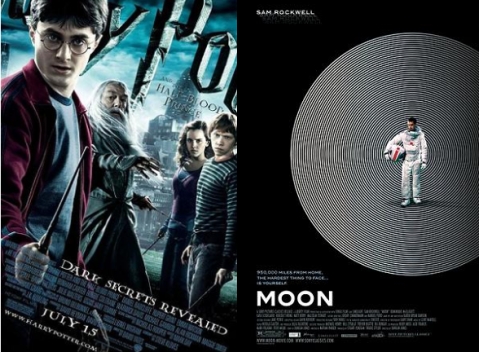 NATIONAL RELEASES
Harry Potter And The Half-Blood Prince (Warner Bros): The sixth film in the Harry Potter series is again directed by David Yates and adapted by Steve Kloves. The regular cast (Daniel Radcliffe as Harry, Rupert Grint as Ron, Emma Watson as Hermione and Michael Gambon as Dumbledore) all return and the plot sees the apprentice wizard go back to Hogwarts to find out more about the early years of Lord Voldemort.
Dark clouds are beginning gather over the wizard and regular worlds and Dumbledore enlists the aid of an old professor (Jim Broadbent) to help Harry, who has also found a new book of spells which was once owned by the mysterious 'Half-Blood Prince'.
Although the first two Potter films were full of back-story and maybe a little sluggish for the more discerning viewer, they have improved since Alfonso Cuaron helped to creatively jump start the franchise in 2004 with the Prisoner of Azkaban.
David Yates did a solid job with the last film and here he moves proceedings along with considerable pace and verve, so much so that you don't really notice the 153 minute running time. Visually it is the most advanced of the Potter series, with a crisp, clean look and CGI which is expertly woven in with the costumes and production design.
Anticipating the huge interest for what is likely to be the biggest film of the year, Warner Bros released it early on Wednesday and it is set for a massive opening weekend worldwide. [Empire Leicester Square & Nationwide / Cert 12A / Opened on Weds 15th July]
Moon (Sony Pictures): It isn't often that you get an intelligent low-budget sci-fi film opening at UK cinemas but this first-time effort by director Duncan Jones is highly impressive. Set in the near future, Sam Rockwell stars as an astronaught who works on the moon harvesting helium-3 for a company who have helped reverse the planet's energy crisis.
To say too much more about the plot would give away too much as it takes off in interesting and unexpected directions. The script by Jones and Nathan Parker taps into the vein of more cerebral sci-fi classics like Solaris (both versions), 2001 and Silent Running.
Given the budgetary limitations, it looks terrific with clever use of sets amd special effects, However, the biggest highlight of all is Rockwell who gives a remarkable performance in what is largely a one man show. Kevin Spacey also provides nice support as the voice of the base computer GERTY.
Sony Classics acquired this after it screened at Sundance back in January and to their credit Sony Pictures UK are giving it a decent national release here. [Nationwide / Cert 15]
[ad]
IN LIMITED RELEASE

Frozen River (Axiom Films): An acclaimed American indie drama about a desperate single mother (Melissa Leo) living in upstate New York who resorts to smuggling illegal immigrants into the United States as a means of making ends meet. Written and directed by first-timer Courtney Hunt, it co-stars Misty Upham and Charlie McDermott. Winner of the Grand Jury Prize for Best Dramatic Feature at the 2008 Sundance Film Festival, it is well worth seeking out, especially for Leo's performance which won her an Oscar nomination earlier this year. [Apollo Piccadilly Circus, Odeon Panton Street & Key Cities / Cert 15]
Kisses (Optimum Releasing): A low budget Irish film about two young children named Kylie (Kelly O'Neill) and Dylan (Shane Curry) who run away together to Dublin for one night. Directed by Lance Daly, it screened at various festivals last year to considerable acclaim. [Odeon Covent Garden, Tricycle Theatre & Key Cities / Cert 15]
* Listen to our interview with Lance Daly about Kisses *
The Informers (Entertainment): An ensemble drama written by Bret Easton Ellis and Nicholas Jarecki and directed by Gregor Jordan. Based on Ellis' 1994 collection of short stories of the same name, it stars Billy Bob Thornton, Winona Ryder, Kim Basinger, Mickey Rourke, the late Brad Renfro and Amber Heard. The abysmal US reviews and distinct lack of buzz may see this slip quietly from cinemas sooner rather than later. [Apollo Piccadilly, Cineworld Shaftesbury Avenue & Odeon Panton Street / Cert 15]
Burma VJ (Dogwoof): A documentary directed by Anders Østergaard which follows the September 2007 uprisings against the military regime in Burma. Filmed entirely on hand-held cameras (due to government restrictions), the footage was later smuggled out of the country. [Renoir, ICA, Ritzy & Nationwide / Cert 12A]
[ad]
> UK cinema releases for July 2009
> DVD Picks for this week including Religulous, Mad Men Season 2, The Young Victoria and Genova (W/C Monday 13th July)