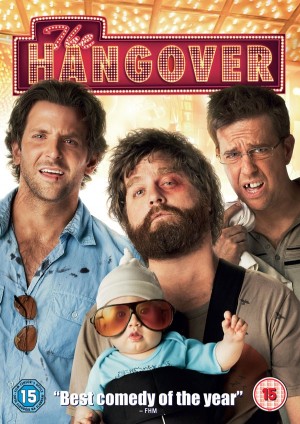 One if the surprise hits of the summer was The Hangover (Warner Bros.), a comedy from director Todd Phillips about a bachelor party gone wrong in Las Vegas.
When three groomsmen (Bradley Cooper, Ed Helms and Zach Galifianakis) lose their about-to-be-wed buddy (Justin Bartha) after a riotous night of partying, they have to retrace their steps in order to find him.
Along the way, they encounter a tiger belonging to Mike Tyson, a stripper (Heather Graham), a naked man in the trunk of their car and numerous other troubles.
Although on the surface this looks like another goofy mainstream Hollywood comedy, it rises well above the norm due to a clever central concept (the bachelor party itself is cleverly hidden from the audience) and some killer lines and scenes.
Made for a relatively small production budget of $35 million, it proved insanely profitable after grossing over $459 million worldwide.
The DVD version includes the theatrical version of the film with the following features:
2.40:1 Anamorphic Widescreen
English and Italian DD5.1
English Audio Description
English HOH, Arabic, Greek, Hebrew, Icelandic, Italian and Italian HOH subtitles
"Map of Destruction" – Retrace each step the guys took during their fate-filled evening and see the real locations, learn about Las Vegas lore and see the filming that took place there
"Three Best Friends Song" – Bradley Cooper, Ed Helms and Zach Galifianakis "freestyle" their own song
Gag Reel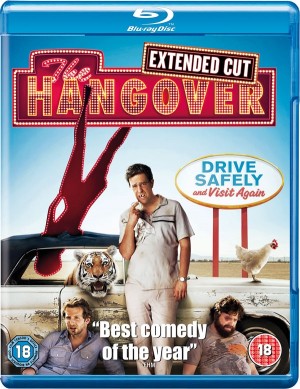 The Blu-ray Disc includes the theatrical and extended cuts of the film with the following features (extras are all in HD):
1080P 2.40:1 Widescreen
English 5.1 Dolby TrueHD
French and German DD5.1 (Theatrical Version only)
English Audio Description (Theatrical Version only)
Subtitles (Film): English HOH, French, German, German HOH, Dutch, Danish, Finnish, Norwegian, Icelandic and Swedish subtitles
Subtitles (Extras except PIP): English, French, German, Dutch
Picture in Picture Commentary (Theatrical Version only, no subtitles) featuring Bradley Cooper, Zach Galifianakis, Ed Helms and Todd Phillips
"Map of Destruction" (16:27mins) – Retrace each step the guys took during their fate-filled evening and see the real locations, learn about Las Vegas lore and see the filming that took place there
"The Madness of Ken Jeong" (7:56mins)– Ken Jeong's nonstop hilarious improve
"Action Mash-Up" (35secs)– Compilation of the physical comedy from the film
"Three Best Friends Song" (1:23mins) – Bradley Cooper, Ed Helms and Zach Galifianakis "freestyle" their own song
"The Dan Band!" (1:08mins) – The Dan Band performs "Fame"
Gag Reel (8:16mins)
More Pictures from the Missing Camera – More photos exposing the events from the night of mayhem
BD-Live
> Buy The Hangover on DVD or Blu-ray from Amazon UK
> The Hangover at the IMDb