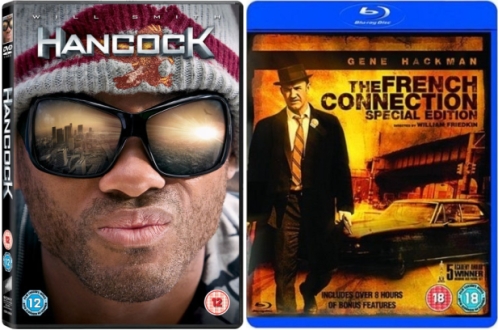 DVD PICKS
Hancock (Sony): Although this Will Smith summer blockbuster attracted a mixed critical response it remains an entertaining and interesting riff on the superhero genre. The biggest movie star in the world plays a depressed, drunken superman who is reviled by Los Angeles because he causes mass destruction when fighting crime. After saving the life of a PR man (Justin Bateman) he is persuaded to change his ways and become a proper hero but complications ensue when his past catches up with him. Directed by Peter Berg (Very Bad Things, The Kingdom) from a script by Vince Gilligan & Vincent Ngo, the action is efficiently handled and the humor (especially between bateman and Smith) nicely played.
Thr two-disc edition is the one to get as it Includes both the theatrical and extended versions of the film with the following features:
2.40:1 Anamorphic Widescreen
English and Czech DD5.1 Surround
English Audio Description
Subtitles (Main Feature): English, English HOH, Czech, Dutch, Hindi and Slovak
Subtitles (Extra Features): English, French, German, Italian, Spanish, Dutch and Portuguese
Superhumans: The Making of Hancock behind-the-scenes documentary
Seeing the Future – takes eight scenes from the actual film footage or B-roll footage and shows side by side comparisons of the conception during the pre-visualization creation
Building a Better Hero special effects featurette
Bumps and Bruises – breakdown of action sequences in the film
Mere Mortals: Behind the Scenes with 'Dirty Pete.' – Interview with director Peter Berg
Home Life – – Shows via time lapse photography the building of the homes and buildings used in the film
Suiting Up – featurette on the film's costume design
Digital copy of the theatrical cut for consumers to play on their PC or PSP® (PlayStation® Portable) System  
The French Connection – Bluray (Fox): Although I'm still in a state of Blu-ray limbo (a subject of a future post) this is one title I'd be really keen on getting. A landmark film of the early 1970s, it is the story of two New York City policemen trying to intercept a heroin shipment coming in from France. Directed by William Friedkin, it stars Gene Hackman (as detective Jimmy "Popeye" Doyle), Fernando Rey (as French heroin smuggler Alain Charnier) and Roy Scheider (as Jimmy's partner Buddy "Cloudy" Russo). It also features Eddie Egan and Sonny "Cloudy" Grosso, the real-life police detectives on whom Hackman's and Scheider's characters were based.
The Blu-ray disc has exclusive new high-def content including an introduction by William Friedkin, an 'Anatomy of a Chase' featurette, Friedkin and Grosso remembering the real French Connection, and a featurette about the music of Don Ellis.
It also features the following:
Disc 1:
William Friedkin Introduction to The French Connection
Audio Commentary by William Friedkin
Audio Commentary by Gene Hackman and Roy Schieder
Trivia Track
Isolated Score Track
Theatrical Trailer
French Connection II BD Trailer
Disc 2:
9 Deleted Scenes with Optional Audio Commentary by William Friedkin (12 mins 50 secs)
Anatomy of a Chase (20 mins 36 secs)
Hackman on Doyle (12 mins 14 secs)
Friedman and Grosso remember the real French Connection (19 mins 34 secs)
Scene of the Crime (6 mins 19 mins)
Colour Timing The French Connection (13 mins 21 secs)
Cop Jazz: The Music of Don Ellis (10 mins 11 secs)
Rouge Cop: The Noir Connection (13 mins 56 secs)
BBC Documentary: The Poughkeepsie Shuffle (53 mins)
Making the Connection: The Untold Stories of The French Connection (60 mins)
There is also a double disc edition that contains The French Connection 2.
[ad]
ALSO OUT
24: Redemption (Fox)
Aled's Christmas Carols (2 Entertain)
Einstein and Eddington (2 Entertain)
Just the Ticket: The British Transport Films Collection Volume Nine (BFI)
Lotte Reiniger – The Fairy Tale Films (BFI)
Meet Dave (Fox)
Phil Daniels' Football Match Day Madness (Fremantle)
Space Chimps (EIV)
Strictly Come Dancing The Workout With Kelly & Flavia (2 Entertain)
The British Transport Films Collection (BFI)
The Memory Keeper's Daughter (Sony)
The Mummy: Tomb of the Dragon Emperor (Universal)
Thomas Kinkade's Christmas Cottage (Lionsgate)
[ad]
> Buy Hancock and The French Connection at Amazon UK
> Browse more DVD Releases at Amazon UK and Play
> Check the latest DVD prices at DVD Price Check
> Take a look at the current UK cinema releases (W/C Friday 28th November)