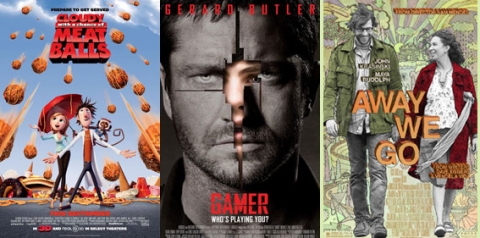 [ad]
NATIONAL RELEASES
Cloudy With A Chance Of Meatballs 3D (Sony Pictures): An animated film about a young scientist who invents a a weather machine that turns water into food, which results in food falling on to his town. Based on the children's book of the same name by Judi Barrett and Ron Barrett, it features the voices of Bill Hader, Anna Faris, James Caan and Mr. T.
Directed by Phil Lord and Christopher Miller, it is an engaging tale filled with some surreal sequences in which it rains hamburgers, hot dogs and all manner of sugar laden food.
The story is kind of a prequel to the book and although it doesn't arrive on a wave of buzz, it could find a grateful family audience as it is accessible and charming, with some delightful animation which makes good use of the 3-D.
Sometimes animated films outside of the Pixar and DreamWorks stables can be underestimated at the box office (just look at the massive grosses of Ice Age 3) and Sony might be pleasantly surprised at how well this one does both in the US and UK box office. [Nationwide / Cert U]
Gamer (Entertainment): A sci-fi action thriller set in a future-world where humans can control each other in mass-scale, multi-player online gaming environments, it sees a star player (Gerard Butler) from a game called "Slayers" looks to regain his independence while taking down the game's mastermind.
Directed by Mark Neveldine and Brian Taylor, it looks set to be another piece of genre pulp from Lionsgate who will be expecting males to turn out on force, especially those who love violent action mixed up with some computer game references. [Empire Leicester Square & Nationwide / Cert 18]
Away We Go (E1 Entertainment): A comedy-drama about a couple (John Krazinski and Maya Rudolph) expecting their first child who end up travelling around the U.S. in order to find a perfect place to start their new family.
Directed by Sam Mendes from a script by the husband-and-wife team of Dave Eggers and Vendela Vida, it marks a change of pace it received mixed reviews in the US and doesn't look set to be a big grosser there or here.
E1 Films will be hoping that art-house and indie-orientated audiences will be up for this, although it could struggle to make an impact despite the pedigree of the director, for whom this makes an interesting change of pace. [Vue West End & Nationwide / Cert 15]
The Firm (Warner Bros.): A remake of the Alan Clarke film, directed by Nick Love which sees football hooligans (who would've thought it eh?) organising themselves into firms that represent their favorite team. Like most of Love's films it is more likely to find an audience on DVD. [C'World Shaftesbury Ave., Vues Finchley Road, West End & Nationwide / Cert 18]
[ad]
IN LIMITED RELEASE
Birdwatchers (Artificial Eye): An Italian drama about a tribe of indigenous Guarani Indians who attempt to re-inhabit their ancestral land, which lies on the border of a wealthy landowner's fields, causing tensions to escalate. [Curzon Soho & Key Cities / Previews Sept 17th / Cert 15)
Blind Dating (The Works): A 2006 comedy (yes, it is three years old)starring a pre-Star Trek Chris Pine, as a handsome young man who also happens to be blind. [Apollo Piccadilly Circus / Cert 15]
Chevolution (ICA Films): A documentary on the iconography of Che Guevara, as chronicled by filmmaker and Guggenheim scholar Trisha Ziff. [ICA Cinema & Key Cities / Cert 15]
Je Veux Voir (Soda Pictures): A cinematic visualisation of the horrific toll being paid for the recent war in Southern Lebanon. [Cine Lumiere, Renoir & Key Cities]
31 North 62 East (DFTEnterprises): A psychological thriller about how an elite SAS unit's position is revealed by the British Prime Minister to ensure an arms deal goes ahead and to secure his re-election. [Empire Leicester Square & Key Cities]
The Agent (Pinter And Martin): An adaptation of Martin Wagner's stage play. [BFI Southbank / Edinburgh F'House / Glasgow Film Theatre / Sept 27th]
> UK cinema releases for September 2009
> DVD & Blu-ray picks for this week including Beyond the Clouds, Is Anybody There? and Leon (W/C Monday 14th September 2009)