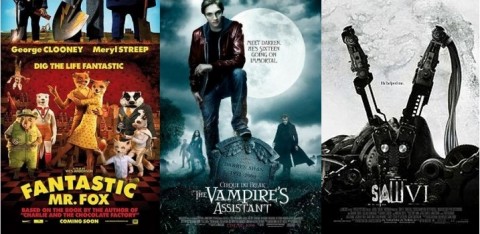 [ad]
NATIONAL RELEASES
Fantastic Mr Fox (Fox): Director Wes Anderson's adaptation of Roald Dahl's much loved children's book captures the charms of the source material and is likely to be his biggest box office hit. The premise of  involves – believe it or not – a fox (George Clooney) living underground with his wife (Meryl Streep) and family (which includes Jason Schwartzman).
However, he can't let go of his wild instincts and regularly raids the chicken coops of the irate local farmers (Michael Gambon, Adrien Brody and Brian Cox) who declare war on him. In some ways the film is a curious hybrid: a recognizable Anderson film with his usual kooks and quirks; an adaptation of a beloved book and a mainstream animated release from a major studio (appropriately enough, Fox).
Anderson's films over the last decade have been the Hollywood equivalent of gourmet food – undeniably tasty but a bit too refined for mainstream tastes and sometimes too rich for even his admirers. His best work remains his earlier films: Bottle Rocket (1996) and Rushmore (1998) as they combined his style, wit and taste with a tangible pang of emotion.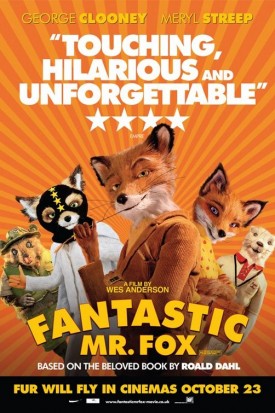 Since The Royal Tenenbaums (2001) his films have become too trapped within their own stylistic tics: British invasion soundtracks, privileged characters with parental issues, distinctive clothing, Kubrick-style fonts and so on.
Films like The Life Aquatic (2004) and The Darjeeling Limited (2007) have certainly above the Hollywood standard – and in places quite brilliant – but the sense of Anderson not quite taking his work to another level has been hard to shake off.
What makes Fantastic Mr Fox refreshing is that although it bears some of his stylistic trademarks, the switch to animation has given him a new lease of life.
Clocking in at just 89 minutes it moves briskly and has a nice, breezy attitude, embodied by the central character who remains coolly charming even in the most perilous situations. There is a charm and simplicity to the central characters and – unlike some of Anderson's recent creations – they feel more rounded and less like stylistic puppets, which is ironic given that they literally are puppets.
Schwartzmann's voice over work is especially noteworthy, hitting a precise tone of innocence and weariness as a young fox trying to find himself in the world. The original book was accompanied by the distinctive artwork of Quentin Blake and Anderson – and his creative team – have opted for their own bold approach, using stop motion animation instead of CGI.
Instead of the smooth textures of Pixar and Dreamworks, the visuals here bear a resemblance to Coraline, Corpse Bride or the work of Nick Park and Aardman animation. The low-fi aesthetic reaps considerable dividends as it gives the characters and their surrounding world a distinctive visual flavour. The foxes especially look especially great in close up with their hair moving a bit like King Kong in the 1933 version.
There is the odd Anderson-style indulgence (watch out for a scene with a wolf) but these can be forgiven as the film works it's magic and charm on a visual and emotional level. Listen out too for some nicely off the wall musical choices which include: The Rolling Stones, The Beach Boys, Burl Ives, Jarvis Cocker (who has a cameo) and some Ennio Morricone style musings.
It will be interesting to see how this plays with family audiences, as although it is based on a famous source, there are gags and references that may fly over the heads of younger audiences. Despite that, it contains enough visual delights for audiences of all ages and may catch fire at the box office, especially in Britain where Roald Dahl is still very popular with a huge amount of readers.
It won't do the same numbers as Up or Ice Age 3 but there is definitely potential here for some decent global box office. Intriguingly, Anderson directed most of the film remotely from Paris whilst it was shot at Three Mills Studios in London, which perhaps demonstrates how technology is affecting what happens off screen as well as what we see on it. [Vue West End & Nationwide / PG]
[ad]
Cirque Du Freak: The Vampire's Assistant (Universal): The ongoing cultural trend for vampires continues unabated with this adaptation of the first of three books of the series The Saga of Darren Shan by author Darren Shan (I'm guessing he didn't really become a vampire).
The story involves a young boy named Darren who meets a mysterious man at a freak show and after a series of events Darren must leave his normal life and go on the road with the Cirque Du Freak and become a Vampire.
Although vampires have often meant often meant big box office (Twilight) or ratings (HBO's True Blood) this must face the lack of widespread awareness about the film and the slew of negative US reviews. However, it could work as counter-programming for older, teen audiences not up for Fantastic Mr Fox. [Empire Leicester Square & Nationwide / 12A]
Saw VI (Lionsgate): The sixth instalment in the never-ending horror franchise will no doubt involve: a fiendish trap; torture; the villain Jigsaw (even though he died in Saw 3) and that annoying puppet.
Directed by Kevin Greutert, who has been the editor on all the past Saw films to date, it stars Tobin Bell, Costas Mandylor, Shawnee Smith and Tanedra Howard. No doubt box office will be healthy as it always is when Saw films are released around Halloween. [Nationwide / 18]
[ad]
ALSO OUT
The Cove (Vertigo Films): An acclaimed documentary about the annual killing of about 2,300 dolphins in a National Park at Taiji, Wakayama in Japan.
It follows a group of activists, led by renown dolphin trainer Ric O'Barry, who infiltrate a cove near the Taijii national park to expose both a shocking instance of animal abuse and a serious threat to human health. [Barbican, Curzon Soho, Ritzy, Vue Islington & Key Cities / 12A]
Colin (Kaleidoscope Entertainment): A low budget Uk horror movie about a zombie who wanders through suburbia during the throes of a cadaverous apocalypse. Apparently made for £45, it has attracted a considerable degree of publicity which may say something about the gullibility of the British press and/or the UK film industry. [London & Key Cities / 18]
The Goods: Live Hard, Sell Hard (Warner Bros/Pathe): A US comedy about a used-car liquidator Don Ready (Jeremy Piven) who is hired by a failing auto dealership to turn their Fourth of July sale into a majorly profitable event. A critical pasting in the US and distinct lack of buzz mean it probably won't make too much of an impact over here. [Nationwide / 15]
Johnny Mad Dog (Momentum Pictures): A cast of unknown performers are used in this drama about child soldiers fighting a war in an unnamed African country. [Curzon Renoir / 15]
Made In Jamaica (Network Releasing): A music documentary about Jamaican reggae and dancehall culture filmed on Kingston streets and Jamaican beaches. [ICA Cinema / 15] (Previews Bristol Watershed 22 Oct]
Coffin Rock (High Fliers Films): A thriller about a woman unable to conceive a child with her husband, despite years of trying, who makes the drunken mistake of sleeping with a young stranger. The stranger then goes to 'terrifying lengths' to prove his paternity. Is this one of those films that gets a one week show in London just before the DVD release? [Apollo Piccadilly Circus / 15]
> UK cinema releases for October 2009
> DVD & Blu-ray picks for this week including Frozen River, The Essential Michael Haneke and The Complete Fritz Lang Mabuse Boxset (W/C Monday 19th Ocotber 2009)