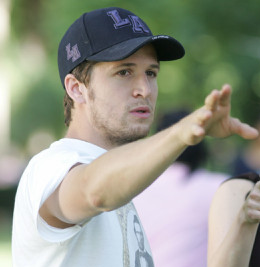 Guillaume Canet first came to prominence as an actor in France with films like In All Innocence (1998).
Internationally he is probably best known for his supporting role in The Beach (2000) but he has branched successfully in to directing and his new thriller Tell No One is out at UK cinemas this week.
A smash hit in France, it stars Francois Cluzet as a doctor whose wife (Marie-Josée Croze) is kidnapped and presumed dead. But eight years later he gets an email saying that she is still alive, which is the beginning of a clever and thrilling drama set in and around contemporary Paris.
I spoke to him recently about adapting the original story from an American setting to a French one, which directors have influenced him and what UK audiences can expect from the film.
Listen to the interview here:
[audio:http://filmdetail.receptionmedia.com/Guilliame_Canet_on_Tell_No_One.mp3]
To subscribe to our Interview Podcast via iTunes just click the image below:
> Download this interview as an MP3 file (just right click, save as and rename)
> Find local showtimes for Tell No One via Google Movies
> Check out the official UK website for Tell No One
> Check out Guillaume's official site