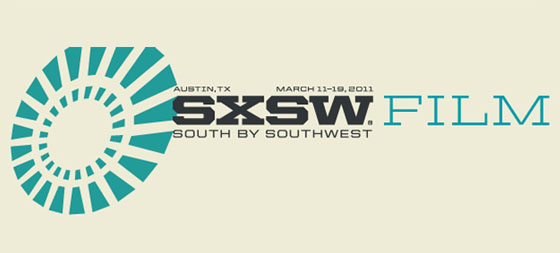 The annual South by Southwest (SXSW) film festival starts next week and more details have emerged of the full program.
Part of a broader annual event that takes in music and interactive, the festivals and conferences take place every spring in Austin, Texas.
The film festival runs relatively independently from the music and tech events, but in recent years it has become a place to watch for breakout films such as Monsters, Tiny Furniture, various Judd Apatow-produced comedies (Knocked Up and Forgetting Sarah Marshall) and for being the spiritual home of the mumblecore movement.
This year, some of the films to look out for include:
Source Code (Dir. Duncan Jones): The new sci-fi film from Duncan Jones (who directed Moon) starring Jake Gyllenhaal and Michelle Monaghan.
The Beaver (Dir. Jodie Foster): Drama starring Mel Gibson as a depressed toy executive who talks to people via a hand puppet, co-starring Foster, Jennifer Lawrence and Anton Yelchin.
Win Win (Dir. Tom McCarthy): Latest drama from Tom McCarthy (who made The Station Agent and The Visitor) starring Paul Giamatti and Melanie Lynskey.
Attack The Block (Dir. Joe Cornish): The new UK horror-comedy about London teenagers defending their tower block from an alien invasion.
There are also numerous panels at the Austin Convention Center featuring filmmakers, journalists, bloggers – for more details check out the online schedule.
Here are details of the major film strands:
HEADLINERS
13 Assassins (Director: Takashi Miike, Writers: Shoichirou Ikemiya & Daisuke Tengan): Distressed by the Lord's murderous rampage, top Shogun official Sir Doi secretly calls on esteemed samurai Shinzaemon Shimada to assassinate the evil Naritsugu. Outraged by Lord Naritsugu's vile acts, Shinzaemon willingly accepts the dangerous mission. Cast: Koji Yakusho, Takayuki Yamada, Yusuke Iseya, Goro Inagaki, Masachika Ichimura
Ain't It Cool News 15th Anniversary Screening: Harry Knowles will curate a surprise screening in honor of the 15th Anniversary of his popular cult website Ain't it Cool News.
The Beaver (Director: Jodie Foster, Writer: Kyle Killen): Two-time Academy Award® winner Jodie Foster directs and co-stars with two-time Academy Award® winner Mel Gibson in an emotional story about a man on a journey to re-discover his family and re- start his life. Plagued by his own demons, Walter Black was once a successful toy executive and family man who now suffers from depression. No matter what he tries, Walter can't seem to get himself back on track…until a beaver hand puppet enters his life. Cast: Cast: Mel Gibson, Jodie Foster, Anton Yelchin, Jennifer Lawrence, Cherry Jones (World Premiere)
Conan O'Brien Can't Stop (Director: Rodman Flender): Did Conan O'Brien go on tour to connect with his fans or fill a void within himself? Rodman Flender's documentary captures an artist trained in improvisation at the most improvisational time of his career. (World Premiere)
The King of Luck (Director: Billy Bob Thornton): This is a documentary about Willie Nelson: the man, the songwriter, the friend, the father, legendary performer and champion of the family farmer. (World Premiere)
Paul (Director: Greg Mottola, Writers: Simon Pegg & Nick Frost): Simon Pegg and Nick Frost reunite as two geeks who meet an alien named Paul (Seth Rogen) on a pilgrimage to America's UFO heartland. Their road trip will alter our universe forever. Cast: Simon Pegg, Nick Frost, Jason Bateman, Kristen Wiig, Bill Hader, Blythe Danner, John Carroll Lynch, with Sigourney Weaver, and Seth Rogen as Paul (North American Premiere)
Source Code (Director: Duncan Jones, Writer: Ben Ripley): When soldier Captain Colter Stevens (Jake Gyllenhaal) wakes up in the body of an unknown man, he discovers he's part of a mission to find the bomber of a Chicago commuter train. In an assignment unlike any he's ever known, he learns he's part of a government experiment called the "Source Code," a computer program that enables him to cross over into another man's identity in the last 8 minutes of his life. Cast: Jake Gyllenhaal, Michelle Monaghan, Vera Farmiga, Jeffrey Wright (World Premiere)
Super (Director & Writer: James Gunn): In this outlandish dark comedy, James Gunn has created what is perhaps the definitive take on self-reflexive superheroes. Cast: Rainn Wilson, Ellen Page, Liv Tyler, Kevin Bacon, Michael Rooker (U.S. Premiere)
Win Win (Director: Tom McCarthy, Writers: Tom McCarthy & Joe Tiboni): Tom McCarthy, acclaimed writer/director of The Visitor and The Station Agent, once again explores the depths and nuances of human relationships in his new film about the allegiances and bonds between unlikely characters. Cast: Paul Giamatti, Amy Ryan, Bobby Cannavale, Jeffrey Tambor, Burt Young, Melanie Lynskey, Alex Schaffer, Margo Martindale, David Thompson
NARRATIVE FEATURE COMPETITION
96 Minutes (Director & Writer: Aimée Lagos): Four young lives. One night. One terrifying event. These 96 minutes will change everything. Cast: Brittany Snow, Evan Ross, Christian Serratos, J. Michael Trautmann, and David Oyelowo (World Premiere)
A Year in Mooring (Director: Chris Eyre, Writer: Peter Vanderwall): In his first leading dramatic role, Josh Lucas walks an isolated line between solitude and redemption. This quiet cinematic journey tells a of tale grief, solace and peace. Cast: Josh Lucas, Ayelet Zurer, James Cromwell, Jon Tenney, Taylor Nichols (World Premiere)
American Animal (Director & Writer: Matt D'Elia): Jimmy – eccentric, delusional, dying – feels betrayed when roommate James gets a job. During one night of drinks, drugs and women, a classic battle of wills ensues as James prepares for work and Jimmy goes mad. Cast: Matt D'Elia, Brendan Fletcher, Mircea Monroe, Angela Sarafyan (World Premiere)
Charlie Casanova (Director & Writer: Terry McMahon): A ruling class sociopath knocks down a working class girl in a hit-and-run and uses a deck of playing cards to determine his fate. Cast: Emmett J. Scanlan, Leigh Arnold, Damien Hannaway, Ruth McIntyre, Tony Murphy (World Premiere)
Fly Away (Director & Writer: Janet Grillo): A poignant yet humor filled story about a single mother of a teenager with autism, confronting her child's future. What will sustain her daughter, and herself? A parent/child love story, when love means letting go. Cast: Beth Broderick, Ashley Rickards, Greg Germann, JR Bourne, Reno (World Premiere)
Happy New Year (Director & Writer: K. Lorrel Manning): A war torn marine returns home to face his fiercest battle yet — the one against himself. Cast: Michael Cuomo, JD Williams, Monique Gabriela Curnen, Tina Sloan, Alan Dale (World Premiere)
Natural Selection (Director and Screenwriter: Robbie Pickering): When a dutiful, albeit barren, housewife discovers that her ailing husband has an illegitimate son, she sets out to find the young man and reunite him with her husband before he dies. Cast: Rachael Harris, Matt O'Leary, Jon Gries, John Diehl (World Premiere)
Small, Beautifully Moving Parts (Directors & Writers: Annie J. Howell & Lisa Robinson): Technology-obsessed Sarah Sparks is pregnant and ambivalent, afraid she relates better to machines than to people. Looking for answers, she hits the road in search of her estranged mother, now living off the grid. Cast: Anna Margaret Hollyman, André Holland, Sarah Rafferty, Susan Kelechi Watson, Mary Beth Peil (World Premiere)
DOCUMENTARY FEATURE COMPETITION
Better This World (Directors: Katie Galloway & Kelly Duane de la Vega): Two boyhood friends from Midland, Texas cross a line that radically changes their lives. The result: eight homemade bombs, multiple domestic terrorism charges and a high stakes entrapment defense hinging on a controversial FBI informant. (World Premiere)
The City Dark (Director: Ian Cheney): The film chronicles the disappearance of darkness, following astronomers, cancer researchers, ecologists and philosophers in a quest to understand what is lost in the glare of city lights. (World Premiere)
Dragonslayer (Director: Tristan Patterson): Killer Films presents the transmissions of a lost kid, falling in love, in the suburbs of Fullerton, California. Featuring skateboarding, the usual drugs, and stray glimpses of unusual beauty. (World Premiere)
Fightville (Directors: Michael Tucker & Petra Epperlein): A documentary about the art and sport of fighting: a microcosm of life, a physical manifestation of that other brutal contest called the American Dream. (World Premiere)
Kumaré (Director: Vikram Gandhi): A documentary about a man who impersonates a wise Indian Guru and builds a following in Arizona. (World Premiere)
Last Days Here (Directors: Don Argott & Demian Fenton): The film follows middle-aged rocker Bobby Liebling, lead singer of the cult hard rock/heavy metal band Pentagram, as he leaves his parents' basement in search of the life he never lived. (World Premiere)
A Matter of Taste (Director: Sally Rowe): Considered a rising star of haute cuisine, Paul Liebrandt found his career stalled in New York's austere environment post 9/11. Paul struggles over the next decade as he tries to make his way back to the top. (World Premiere)
Where Soldiers Come From (Director: Heather Courtney): From a snowy small town in Northern Michigan to the mountains of Afghanistan and back, the film follows the four-year journey of childhood friends and their town, forever changed by a faraway war. (World Premiere)
MIDNIGHTERS
Attack The Block (Director: Joe Cornish): A funny, frightening action adventure movie that pits a teen gang against an invasion of alien monsters. It turns a tower block into a sci-fi playground. It's inner city versus outer space. (World Premiere)
The Divide (Director: Xavier Gens, Writers: Karl Mueller & Eron Sheean): To survive the end of the world…you must first survive each other. Cast: Michael Biehn, Milo Ventimiglia, Lauren German, Rosanna Arquette, Courtney B. Vance (World Premiere)
Hobo With a Shotgun (Director: Jason Eisner, Writer: John Davies): A Hobo finds himself in an urban hell. When he witnesses a brutal robbery, he realizes the only way to deliver justice is with a shotgun. Cast: Rutger Hauer, Gregory Smith, Molly Dunsworth, Brian Downey, Nick Bateman.
Insidious (Director: James Wan, Writer: Leigh Whannell): Dark spirits have possessed the home of a family whose son has fallen into a coma. Trying to save him, the family moves only to realize that it was not their house that was haunted. Cast: Patrick Wilson, Rose Byrne, Lin Shaye, Ty Simpkins, Barbara Hershey (U.S. Premiere)
Phase 7 / Fase 7 (Director & Writer: Nicolas Goldbart): Coco just moved to his new apartment with 7-month pregnant wife. When the building is in quarantined for a deadly flue. The neighbors became unexpected enemies. Cast: Daniel Hendler, Federico Luppi, Jazmin Stuart, Jose "Yayo" Guridi (North American Premiere)
You can check out other strands at the festival which include: Spotlight Premieres, Emerging Visions, Lone Star States, 24 Beats Per Second, SXGlobal, SXFantastic, Festival Favorites and Special Events.
> SXSW 2011
> Find out more about the history of the festival at Wikipedia