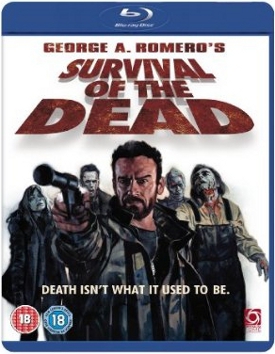 George A Romero's latest zombie film Survival of the Dead is out now on Blu-ray and we have 3 copies to give away courtesy of Optimum.
Romero helped define the zombie genre with Night of the Living Dead (1968), Dawn of the Dead (1978) and Day of the Dead (1985) and his latest follows characters who appeared in Diary of the Dead (2007).
Rogue soldier Sarge (Alan Van Sprang), who appeared in Diary of the Dead and Land of the Dead, leads a band of military dropouts to seek refuge from the endless chaos of the zombie uprising on the remote Plum Island.
Patriarch Patrick O'Flynn (Kenneth Welsh) and his family believe the only good zombie is a (truly) dead zombie, whilst rival clan the Muldoons believe in chaining up the un-dead until a cure can be found.
Caught in the middle, Sarge is drawn to Janet (Kathleen Munroe), Patrick's daughter, who tries to make peace between the two warring factions.
But hope of a truce is shattered when Sarge's best friend is killed, and the battle that follows overtakes everyone on the island, living and dead.
To be in with a chance of winning a copy just answer the following question:
Which film about a travelling rennaissance fair troupe did Romero direct in 1981?
[ad]
The closing date is Wednesday 31st March and winners will be notified by email.
Survival of the Dead is out now on Blu-ray and DVD from Optimum Home Entertainment