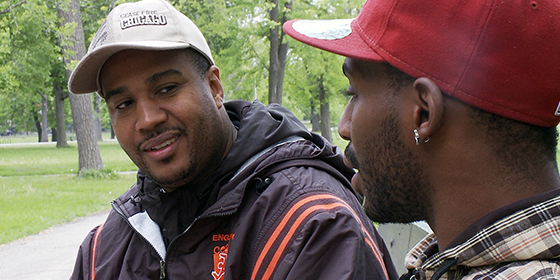 The latest documentary from Steve James is a riveting examination of a community group tackling urban violence in Chicago.
Inspired by a 2008 article by Alex Kotlowitz in the New York Times Magazine, it explores the work of CeaseFire, a program which adopted 'The Violence Interrupter' concept, which uses people with experience of violent crime in order to prevent it.
The brainchild of epidemiologist Gary Slutkin, the interrupter concept treats urban violence like an infectious disease – if you go after the most infected, then you can stop the infection at its source.
Shot over the course of a year in Chicago, it focuses on three interrupters: Ameena Matthews, Cobe Williams and Eddie Bocanegra, who all have lives shaped by past violence on the streets.
But the fascination of the film lies is the way it combines the history of the interrupters with their practical application of Slutkin's theory.
CeaseFire utilises whatever nonviolent means possible to prevent violence: interrupters listen to the chatter on the streets and intervene when something is about to go wrong.
We see the power of 'interruption' in practice as Ameena, Cobe and Eddie apply it in the streets, using their contacts, negotiating skills and quick wits to diffuse potentially volatile situations in areas blighted by poverty and crime.
This means that in order to be effective, they have to exercise a special brand of street diplomacy, which can involve anything from talking out issues on a porch to an impromptu trip to the local food joint.
Ameena draws on her own background as the daughter of a notorious gang leader to befriend and mentor a girl who reminds her of her younger self; Cobe uses his experience of loss and time in prison to disarm people with his charm and good nature; whilst Eddie's empathetic work with young children is driven by his own haunted past.
Each of these narrative strands could potentially provide the basis for a gripping feature film, but Steve James weaves them skilfully into a documentary which tackles a deep problem with considerable insight and human drama.
Returning to the same city that formed the backdrop of his landmark film Hoop Dreams (1994), the film is refreshingly candid about the problem of urban violence and mercifully free of the fake inspiration of mainstream TV documentaries.
The cameras here capture some extraordinarily raw scenes: a quick-witted doorstep negotiation with an angry man bent on revenge; a dramatic apology delivered to the owners of a barbershop; an interrupter lying on a hospital bed; and a school girl describing the effects of violence, are just some of the most affecting things I've seen this year.
But their power comes from the extensive groundwork laid out by James and Kotlowitz, who shot over 300 hours of footage and took time to earn the trust of their interviewees and the communities where they filmed.
This means that what we see on screen is filled with the kind of genuine surprises, narrative suspense and inspiring actions that only real life can provide.
Perhaps the most lasting aspect of The Interrupters is that it serves as a welcome counterblast to traditional ways in which the issue of urban violence is framed.
Hollywood favours improbable stories of mavericks beating the odds, whilst mainstream media such as CNN and Fox devote plenty of time to the gory outcome of murder whilst ignoring the root causes.
James and Kotlowitz (who served as co-producer on the film) adopt a slower and more considered approach which reaps rich dividends in exploring the complexity of human beings and the environment they inhabit.
In a sense, the film stays true to the long form journalism that inspired it, as research and a careful fidelity to the facts and issues at hand provide the backbone to the film.
According to the filmmakers, the minimalist production values and aesthetic were partly a product of making their subjects feel comfortable on camera, but it also emphasises the human factor well, which after all is what the film is really about.
The real genius of The Interrupters is that it immerses us in a particular situation but ultimately achieves a universal significance in depicting human struggle and redemption.
It also acts as a valuable document of a time when Chicago was brought into the national spotlight through the death of Derrion Albert in September 2009, and almost became a symbol for the violence across US cities.
After an acclaimed run at film festivals including Sundance, Sheffield and South by Southwest, it is very hard not to see this as an early Oscar frontrunner for Best Documentary.
At Sundance its running time was 164 minutes, but will open in the UK at a more audience-friendly running time of around two hours.
This means its commercial theatrical prospects have been improved – and it is a film I would urge you to see at a cinema – but presumably there is enough raw material for an extended cut on DVD or even a mini-series.
Like Hoop Dreams, the achievement here is immense and the film shines a valuable light on an issue which affects not just Chicago but every city suffering the human cost of violence.
The lasting legacy may be that practical, grass roots activism can provide relief from even the most intractable urban problems.
In what is already a very strong year for documentaries, this is one of the very best.
The Interrupters opens in the UK on August 12th and you can find a list of cinemas showing it here
> Official website
> Official Facebook and Twitter
> Reviews of The Interrupters at Metacritic
> Original NY Times article by Alex Kotlowitz that inspired the film