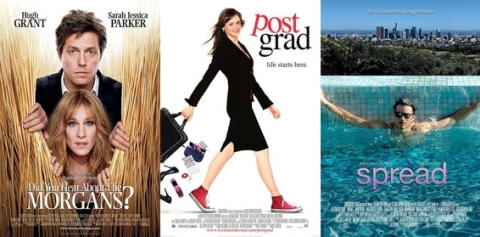 NATIONAL RELEASES
Did You Hear About The Morgans? (Sony): A romantic comedy about an estranged couple (Hugh Grant and Sarah Jessica Parker) who witness a murder in New York and get relocated to small-town Wyoming as part of a witness-protection program.
Directed by Marc Lawrence, this looks to be in the mould of his previous collaborations with Grant (Two Weeks Notice, Music and Lyrics), which basically means it's aimed at less-than-discerning female audiences. The negative reviews and poor US box office suggest that it will not be regarded as one of the defining films of the new decade. [Nationwide / Cert 12A]
Post Grad (20th Century Fox): A comedy about a college graduate (Alexis Bledel) who has to move back in with her family, while she attempts to find a job and the right guy.
Directed by Vicky Jenson, it co-stars Carol Burnett, Zach Gilford, Michael Keaton, Jane Lynch, and Rodrigo Santoro. It bombed in the US and received fairly negative reviews which is why Fox is probably releasing it now whilst people are watching films like Avatar, Sherlock Holmes and Alvin and the Chipmunks 2. [Nationwide / Cert 12A]
Spread (Optimum Releasing): A sex comedy starring Aston Kutcher as a serial womaniser who screws around a lot in LA. Directed byDavid Mackenzie, it co-stars Anne Heche and Margarita Levieva.
It died a box office death in the US last August (grossing just over $250,000) which suggests that Kutcher's four million-plus followers on Twitter didn't make the trip to see it. [Odeon Covent Gdn., Vue West End & Nationwide / Cert 15]
[ad]
ALSO OUT
I'm Gonna Explode (Artificial Eye): A Mexican film about teenage angst which sees a young man (Juan Pablo de Santiago) go on a road trip with an equally rebellious girl (Maria Deschamps). Directed by Gerardo Naranjo, it could do respectable arthouse business if word of mouth gets around. [Renoir & Key Cities / Cert 15]
> Get local cinema showtimes for your area via Google Movies
> UK DVD & Blu-ray picks for this week including District 9 and The Hurt Locker