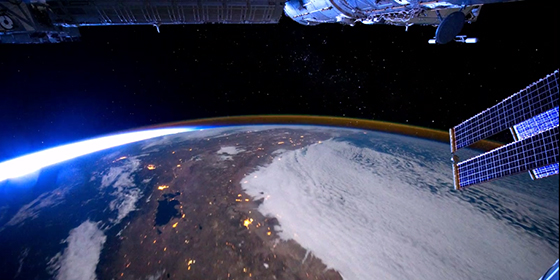 Have you ever wanted to see what Earth looks like from orbit?
Science educator James Drake created this time-lapse video using still images taken from the International Space Station as it orbited the planet at night.
The images were taken as it flew over the Americas and the video was made from 600 photos available online.
It begins over the Pacific Ocean and continues over North and South America, before entering daylight near Antarctica and even ends with a solar lens flare.
If you look really carefully you can see such places as Vancouver, Seattle, San Fransisco, Los Angeles, the Gulf of Mexico, lightning over the Pacific, Chile, the Amazon and the earth's ionosphere.
N.B. As it is a silent video, someone in the YouTube comments section suggests the addition of Jerry Goldsmith's Ilia's Theme from Star Trek (1979) but I would say that Flight into Space from John Barry's Moonraker (1979) would also work.
[via Universe Today]
> Infinity Imagined – James Drake's Tumblr blog
> Find out more about Earth and the ISS at Wikipedia