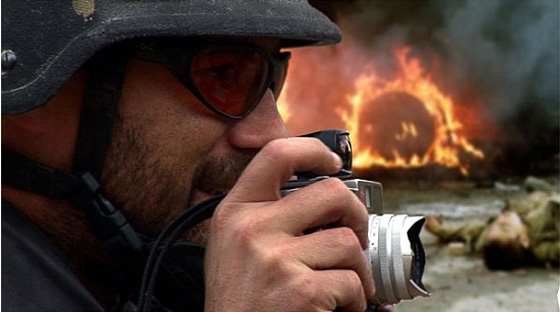 What makes war photographers set out to capture images from some of the most dangerous places on earth?
This is a question that drove director Richard Parry as he followed photo-journalist Robert King in Shooting Robert King.
Using footage shot over a fifteen year period, the documentary chronicles King in the war zones of the former Yugoslavia, Chechnya and Iraq.
The first part sees him as a naive, but determined 24 year old getting his first taste of war in Sarajevo during 1993.
But by the time of Grozny in 1997, he is a more hardened figure who has had photos published on the covers of the world's top publications including Time and Figaro.
After spells in Afghanistan, Rwanda, Albania and Kosovo he eventually goes to Iraq in 2007, by which time he is married with a family.
In the most recent conflict, he chose (like many others) to be embedded with the US military and it is an eye-opening behind-the-scenes look at how the war was covered.
The footage in the film is often remarkable, providing a fascinating document of the wars, although sensitive viewers should be warned that it is frequently graphic and disturbing.
A compelling portrait of a journalist and his motives for covering war, it also intercuts King talking about his experiences in the relative peace of Tennessee during 2007.
The extras on the DVD include the following:
Audio Commentary by director Richard Parry and producer Vaughn Smith
Making of 'Shooting of Robert King'
Riding Shotgun with the King
Deleted Scenes
Stills Gallery
Trailer
The Story of Frontline News
Director's War Story
UN Corruption Story
The Frontline Club
> Official site
> Shooting Robert King at the IMDb
> Buy Shooting Robert King at Amazon UK
> Frontline Club