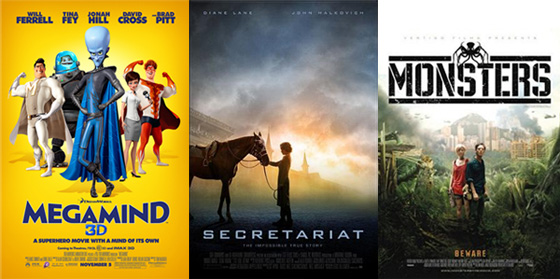 NATIONAL RELEASES
Megamind (Paramount): The latest animated film from the DreamWorks stable is a riff on the superhero genre from the perspective of a super villain. When the evil Megamind (Will Ferrell) somehow manages to kill his nemesis Metro Man (Brad Pitt), he faces the challenge of having no-one left to fight, so he creates a new foe, Titan (Jonah Hill) in order to impress a female reporter (Tina Fey).
Directed by Tom McGrath, it bears many similarities to The Incredibles (2004) but is witty, well paced and makes imaginative use of 3D. Family audiences made this a big hit in the US and it should easily claim the top spot in the UK this week. [Paramount Vue West End & Nationwide / PG]
Secretariat (Walt Disney): Drama based on the life story of Penny Chenery, owner of legendary US racehorse Secretariat, who won the Triple Crown in 1973. Chenery (Diane Lane) is a housewife takes over her ailing father's Virginia stables, and despite her lack of experience, with the help of a veteran trainer (John Malkovich) she manages to navigate the world of horse racing.
Mixed to good reviews in the US didn't help it at the box office where it was a relative disappointment. Audiences in the UK may less familiar with the story, so Disney faces a challenge selling this potential cinemagoers. [Empire Leicester Square & Nationwide / U]
Monsters (Vertigo Films): Set a few years after mysterious alien creatures have landed in Mexico, a photojournalist (Scoot McNairy) is ordered to escort his publisher's daughter (Whitney Able) to the safety of the US. However, due to various circumstances it becomes a difficult task as they venture through the 'infected zone', which contains various giant monsters which can harm humans and property.
A curious hybrid of mumblecore and monster movie, this marks an impressive debu effort from director Gareth Edwards, who also shot the film and did the impressive visual effects.
Although internet buzz has been loud on this film, multiplex audiences may be disappointed to learn that it is a talky road movie in which monsters appear intermittently. So whilst this auspicious debut it will get good reviews, the box office may not be as impressive as some expect. [Curzon Soho, Screen On The Green, Vues Islington, West End & Nationwide / 12A]
ALSO OUT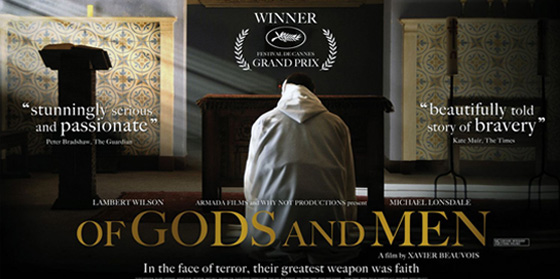 Of Gods And Men (Artificial Eye): French drama from director Xavier Beauvois based on the kidnapping and murder of Cistercian monks in Algeria by fundamentalists in 1996.
Starring Etienne Comar, Lambert Wilson and Michael Lonsdale, it was one of the favourites for this year's Palme D'Or at Cannes, before losing out to Uncle Boonmee. Hardcore cinephiles may make this do respectable arthouse business. [Curzons Mayfair, Renoir, Richmond, HMV Curzon Wimbledon & N'wide / 15]
Miral (Warner/Pathe): Based on the novel by Rula Jebreal, this drama is about an orphaned Palestinian girl (Frieda Pinto) growing up during  the Arab-Israeli war, who finds herself gradually drawn into the conflict.
Normally a film from director Julian Schnabel would be a significant release but poor reviews on the festival circuit effectively killed the buzz and any awards prospects it may have harboured. Mixed reviews in the UK, along with a tricky subject matter, will present significant challenges for this to do decent limited release box office. [Key Cities / 12A]
Bathory (Metrodome Distribution): Historical drama tracing the life of Slovakia's infamous mass murderer, starring Anna Friel and directed by Juraj Jakubisko. [Prince Charles Cinema / 15]
Rare Exports: A Christmas Tale (Icon): A strange Christmas film from Finnish director Jalmari Helander, about an evil Santa Claus rising from the grave. [Odeon Covent Garden & Nationwide / 15]
The Be All & End All (Verve Pictures): UK drama about two teenagers from Liverpool (Josh Bolt and Eugene Byrne) on a mission after one of them gets sick. [Empires Basildon, Leicester Square, Vue Shepherds Bush & Key Cities / 15]
Easier With Practice (Axiom Films): A low budget US indie film about a lonely author (Brian Geraghty) on a campus book-tour who engages in an unusual relationship on the phone. [Key Cities]
Freakonomics (Optimum Releasing): A documentary based on the 2005 bestselling book with several contributions from filmmakers including Alex Gibney and Eugene Jarecki.[Selected Key Cities / 12A]
Legend Of The Fist: The Return Of Chen Zhen (Metrodome Distribution): A Hong Kong action film set during World War Two starring Donnie Yen as a masked avenger taking on the Japanese invaders. [The Ritzy / 18]
Love Life (Yellow Knife Releasing): A romantic drama starring Carice Van Outen and Barry Atsma, which was a big hit at the Dutch box office. [Apollo Piccadilly Circus & Key Cities]
The Warrior's Way (Entertainment): A drama about warrior-assassin () who hides in a small American town after turning down a job. It stars Danny Huston, Dong-gun Jang, Geoffrey Rush, Jang Dong-Gun, Kate Bosworth and Tony Cox. [Nationwide / 15]
Road To Las Vegas (ICA Cinema): Documentary from director Jason Massot about a homeless American family and their struggle to survive in Las Vegas. [ICA Cinema]
> Find out what films are showing in your area with Google Movies or Find Any Film
> UK DVD and Blu-ray Releases for Monday 29th November 2010