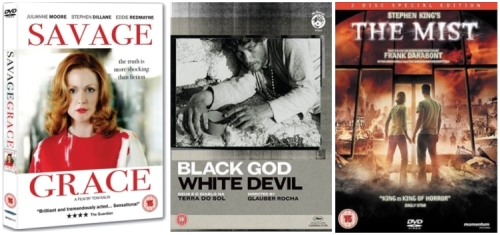 DVD PICKS
Savage Grace (Revolver Entertainment): Directed by Tom Kalin, this is the true story of the life and death of Barbara Daly Baekeland (Julianne Moore), the socialite who married above her class to Brooks Baekeland (Stephen Dillane), the heir to the Bakelite plastics fortune. It explores the tensions in their marriage and Barabara's unusually close relationship to their only son Tony (Eddie Redmayne), who is a failure in his father's eyes. Based on the book by Natalie Robins and Steven M. L. Aronson, the film impressively peels back the layers of a sordid true life episode amongst American high society. Moore is excellent in the title role and although the film won't be to everyone's tastes, there is much here to admire. This edition is presented in 1.85:1 anamorphic widescreen but the only extra is a 16-minute making of featurette. [Cert 15]
Black God White Devil (Mr Bongo Films): A very interesting 1964 Brazilian film directed and written by Glauber Rocha, which tells the story of a peasant farmer (Geraldo Del Rey) who kills his tyrannical boss before going on the run with his wife.  A kind of Brazilian spaghetti western, it helped start the Cinema Novo movement, which addressed the socio-political problems of 1960s Brazil.
The great Luis Buñuel described the film as: 
The most beautiful thing I have seen in more than a decade, filled with savage poetry.
An important re-issue of an overlooked film. 
The Mist (2 Disc Edition) (Momentum): Writer-director Frank Darabont's adaptation of Stephen King's 1980 novella of the same name is perhaps one of the darkest horror films released in recent memory. But instead of the cheap sadism and gore that has unfortunately dominated the genre recently, we have a thoughtful examination of what happens to society under extreme pressure. Set in King's usual location of Maine, it explores what happens to a local artist (Thomas Jane) who becomes trapped in his local supermarket after a mysterious mist descends upon the town. A siege mentality then takes hold of the people inside, with fear and paranoia erupting amongst them on what they should do. Although not a flawless film, there is much to chew on with a haunting sense of despair running through the film and some convincing performances from Jane, Marcia Gay Harden, Toby Jones and Andre Braugher.
The 2 disc edition is the one to go for as it features an alternate cut of the film in black and white (which is how Darabont actually intended to shoot it) as well as the following extras:
Disc 1
Feature Commentary by Writer/Director Frank Darabont

A conversation with Stephen King

Deleted Scenes with Optional Commentary

Drew Struzan: An Appreciation of an Artist

Behind the scenes Webisodes

Trailer Gallery
Disc 2
B&W Feature

Director Introduction

When Darkness Came – Making of the Mist

Taming the Beast: The Making of scene 35

Monsters Among Us: The Creature FX of  The Mist

The Horror of It All: The Visual FX of The Mist
Although a horror, it functions as a highly effective parable of post-9/11 America and features some jump-out-of-the-seat moments and a memorable climax. [Cert 15]   
[ad]
ALSO OUT
Baraka: Remastered – 2 Disc Special Edition (Second Sight)
Donkey Punch (Optimum)
Elf Bowling – The Movie: The Great North Pole Elf Strike (Lionsgate)
Family Guy – Series 7 (Fox)
Fighters / Real Money (2 disc set) (Second Run)
Frankie Boyle Live (4DVD)
Indiana Jones and the Kingdom of the Crystal Skull (2 Disc Edition) (Paramount)
National Lampoon's Class Reunion (Fremantle)
Neighbours – The Iconic Episodes (Shock/Fremantle)
Prisoner Cell Block H Vol.1 (Shock/Fremantle)
Russell Brand's Ponderland – Series 1 (Universal)
Souls at Sea (Eureka)
Space Camp (Fremantle)
Speed Racer (Warner)
The Black Shield Of Falworth (Eureka)
The Flamingo Kid (Fremantle)
The Sarah Jane Adventures: The Complete First Series (BBC)
Tinker Bell (Disney)
Ugly Betty – Season 2 (Disney)
Viva La Diva – Darcey Bussell and Katherine Jenkins (Warner Music)
War Requiem: 20th Anniversary Edition (Second Sight)
Who's Harry Crumb? (Sony)
[ad]
> Buy Savage Grace and Black God White Devil and The Mist on DVD at Amazon UK
> Browse more DVD Releases at Amazon UK and Play
> Check the latest DVD prices at DVD Price Check
>  Take a look at the current UK cinema releases (W/C Friday 7th November)