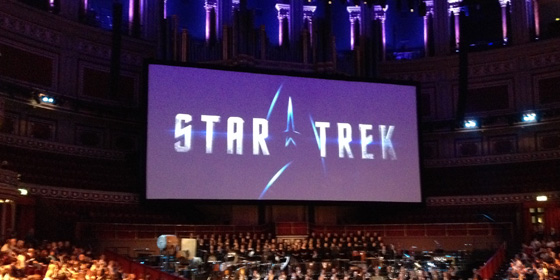 The Royal Albert Hall in London is one of the world's iconic music venues and recently they have been screening films in front of an orchestra.
Last week they screened Gladiator (2000) with Lisa Gerrard providing live vocals, and in the following days they showed J.J. Abrams' Star Trek (2009) and its sequel Star Trek Into Darkness (2013), with the 21st Century Orchestra.
As the lights dimmed Simon Pegg, who plays Scotty in the current iteration of the long running sci-fi franchise, walked on stage and the crowd went suitably wild.
It wasn't just sci-fi geeks wearing Star Trek tops getting excited, but a more mixed crowd that saw film fans of all ages. (Although the conductor came out for the second half of the concert wearing a yellow James T. Kirk top!)
This perhaps being a reflection of how Abrams' latest films have refreshed the long running saga for a mainstream audience whilst honouring the traditions set down by Gene Rodenberry's TV in the 1960s and the subsequent spin-offs.
Although these kind of musical events have been done before, they seem to be part of a new kind of theatrical experience which is seeks to get people back into cinemas in different ways.
I had never experienced a 'live-to-score' screening before and it was quite something to behold: wonderful sound, a huge screen and an iconic venue all made for an absorbing night.
It helped that the venue was sold out (and not just by Star Trek fans) and there was a good atmosphere, but it was also interesting to observe the musicians from the 21st Century Orchestra playing their instruments in-sync with the movie.
At times, it was difficult to decide what to watch: the film unfolding on screen or the musicians playing beneath them.
Ultimately, a mixture of the two was probably what I ended up doing, but it was a tribute to the musicianship of the orchestra that it was perfectly in sync, as there was no margin for error.
There was the added treat of introduction from Simon Pegg (Scotty), Michael Giacchino (composer) and J.J. Abrams (director), the latter getting a particularly large round of applause as he had just come from the set of his latest film (which also has the word 'Star' in the title).
Perhaps J.J. might be back sometime for a live to screening of that, but in the meantime I'd love to see Alfred Hitchcock's The Man Who Knew Too Much (1956), whose climax famously takes place at the Albert Hall.
How cool would that be?
> Royal Albert Hall and YouTube channel
> Star Trek (2009) at Wikipedia