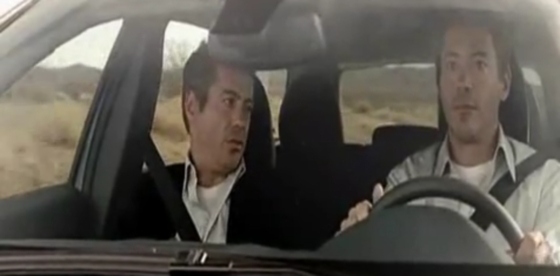 Back in 2004 Robert Downey Jr appeared in a long form Volvo commercial directed by Stephen Frears.
The 12-minute spot was part of a trend in the mid-2000s when companies were experimenting with commercials specifically for the web.
'The Route' is an extended spot for Volvo's line of V50 station wagons and feels like a strange piece of noir with Downey Jr playing two versions of himself.
Weirdly, it plays like a cross between Moon (2009) and his latest film Due Date (2010).
Here it is, in two parts:
It is worth remembering that this was before Downey's major career resurgence after Iron Man (2008) and also Frears' own rejuvenation with The Queen (2006).
If they filmed this today, I'm guessing it would have cost a lot more to produce.
However, it makes you think about the long tail appeal for adverts done for the web.
It used to be the case that adverts went on TV and were rarely seen again, but now everything seems to end up on YouTube, which didn't even exist when this ad was shot.
A lot of new viewers will see this for the first time and Volvo will get the same impact on the money they spent six years ago.
Furthermore, Volvo can see exactly how many views it has racked up, along with analytical data of who and where people are watching.
> IFC article on the ad
> Robert Downey Jr at Wikipedia
[Via IFC]