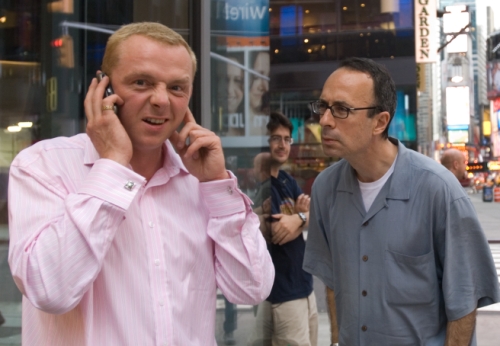 How to Lose Friends & Alienate People is the film adaptation of British writer Toby Young's 2001 memoir of the same name which charted his time at Vanity Fair magazine in New York during the late 1990s.
For the film, the names of the magazine and people Young encountered have been changed but it still keeps the general thrust of the book intact.
Simon Pegg plays the lead character 'Sidney' Young, whilst Jeff Bridges portrays 'Clayton Harding' (based on VF editor Graydon Carter) and other key supporting actors include: Kirsten Dunst, Danny Huston, Gillian Anderson, Megan Fox and it is directed by Robert B. Weide.
I recently spoke to Simon and Robert about the film and you can listen to the interviews here:
[audio:http://filmdetail.receptionmedia.com/Simon_Pegg_and_Robert_B_Weide_on_How_To_Lose_Friends_And_Alienate_People.mp3]
You can also download it as a podcast via iTunes by clicking here.
How To Lose Friends And Alienate People is out at UK cinemas from this Friday
> Download this interview as an MP3 file
> Simon Pegg and Robert B Weide at the IMDb
> Official UK site and IMDb entry for How To Lose Friends And Alienate People
[All images © 2008 / Paramount Pictures]