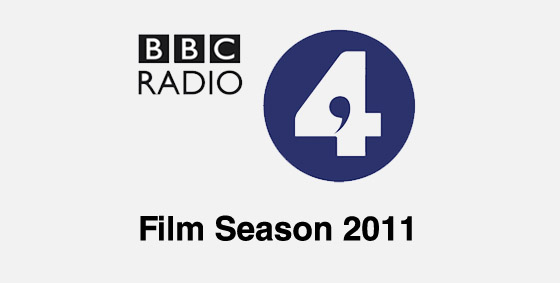 Radio 4 have announced details of their forthcoming film season which features various material from the BBC archives.
Running from January 14th-29th, there will be a range of programmes exploring the past, present and future of cinema.
Mohit Bakaya, Commissioning Editor, BBC Radio 4, says:
"Today people can watch films outdoors, in living rooms, in multiplexes, on phones, on planes, in cars… almost anywhere. And the digital revolution is changing how films are made and who the filmmakers are. Giving insight into this dynamic industry, Radio 4's special season of programmes takes listeners to the heart of cinema and explores where our relationship with film is heading."
The season includes programmes presented by historian and film critic David Thomson, broadcaster Francine Stock, artist filmmaker Isaac Julien, filmmaker Asif Kapadia, broadcaster Barry Norman, writer, journalist and broadcaster Matthew Sweet, with contributions from producer Sir David Puttnam, director Ken Loach and director Sam Mendes.
Radio 4's The Film Programme and regular arts programme Front Row will also be supporting the season with special features on film.
To coincide with the season, the Radio 4 website has released over two hundred interviews with contemporary film stars, directors and producers broadcast on the network since 2002 via the Radio 4 Film Interview Collection.
Interviewees include: Ben Affleck, Clint Eastwood, Gwyneth Paltrow, Charlize Theron, the Coen Brothers, Helena Bonham Carter and Renee Zellweger.
In addition BBC Archive is also releasing a large collection of radio interviews with the stars of the 'Golden Age' of American cinema.
Hollywood Voices features broadcasts and unedited interviews with film stars of the 1930s, 1940s and 1950s, many of which are being made available in full for the first time.
This collection of interviews features Harold Lloyd, James Cagney, Debbie Reynolds and Rita Hayworth.
Further highlights include a 'round table' with Charlie Chaplin; conversations with Buster Keaton and Louise Brooks on the early days of American cinema; a fiery exchange with Bette Davis; and an insight into the power of music courtesy of Alfred Hitchcock.
Two galleries of photos from the BBC stills library also provide a rare glimpse of Hollywood in and around the BBC from 1930-1970.
Film season programme information is as follows:
Going To The Flicks with Barry Norman on how the experience of going to the cinema in Britain has changed over the last century, as recalled through the voices of British cinema-goers. (Saturday 15th January, 8pm)
Acclaimed British director, Asif Kapadia, uncovers Exploding Cinema – a coalition of underground filmmakers who challenge listeners to rethink the ways they watch and rate film. (Sunday 16th January, 1.30pm).
In Brief Encounters, a series of 15 three-minute vignettes transport listeners to cinemas across the world to meet cinema owners, audiences and others whose lives revolve around film (Weekdays at 12.55pm, 4.55pm and within Front Row from 7.15pm starting Monday 17th January)
A ten-part narrative history film, Life At 24 Frames A Second, as interpreted by historian and film critic David Thomson; David takes listeners on a personal journey through how cinema has changed us. (Weekdays at 3.45pm from Monday 17th January)
Francine Stock presents a two-part series on Hollywood. In Hollywood: The Prequel, she examines this early example of globalisation, discovering exactly when and why it happened – despite the roots of many of Hollywood's staple genres being found in Europe.
In Hollywood: The Sequel, Francine considers whether the digital revolution will impact the USA's grip on the global market. (Tuesday 18th and 25th January, 9am)
Leading artist and filmmaker, Isaac Julien gives listeners an insider's view to the approaches, issues, developments and setbacks facing leading artists working in film in Isaac Julien's Guide to Artists Filmmaking. (Tuesday 18th January, 11:30am)
In the lead up to the film season, The Film Programme has looked at the growth in community cinema and the power of film to bring people together. In January, it features listeners' film-viewing diaries and presenter Francine Stock will be tweeting about her film life during the season and beyond. In a special edition (Friday 21st January), Francine tries to set up her own pop up cinema event in Scotland. She enlists the help of experts but what she needs most is a director – will Ken Loach come to her rescue? (Fridays at 4.30pm and Sundays at 11pm)
In Pocket Cinema, Matthew Sweet looks at how the mobile phone is transforming the way people watch and make movies. The programme follows and features a specially commissioned 'Pocket Film' by British film director Gurinder Chadha which can be viewed on the Radio 4 website. (Sunday 23rd January, 1.30pm)
Radio 4's Front Row will be running special features on film throughout the season – including an Oscar nominations special on Tuesday 25th January. (Weekdays at 7.15pm)
As the film season draws to a close, in a special Archive on 4, there's another chance to hear highlights from the Brief Encounters series in Brief Encounters: A World View of Cinema. As well as an omnibus selection, listeners will hear from filmmakers and film experts who will be their guide to the global consumption of cinema. (Saturday 29th January, 8pm)
Exploding Cinema and Pocket Cinema will be part of The Radio 4 Choice podcast which can be downloaded here.
* N.B. It is worth noting that if you aren't based in the UK, you will still be able to listen to these programmes as BBC Radio is available to international audiences *
> Radio 4 film season website
> BBC Archive's Hollywood Voices