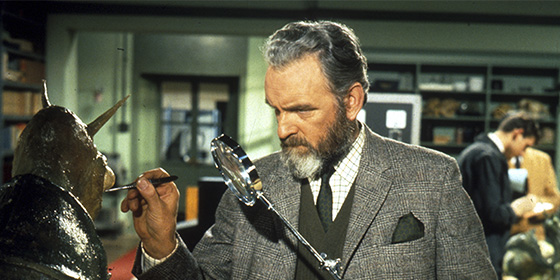 The third and most interesting film in the famous British sci-fi franchise gets a worthy transfer to DVD & Blu-ray, along with some solid extras.
Nigel Kneale's Quatermass TV series subsequently led to a follow-up film series: The Quatermass Xperiment (1955), Quatermass 2 (1957) and a decade later Quatermass and the Pit (1967), which was called Five Million Years to Earth in the USA.
Although better known for their horror films during this time, the character of Quatermass was something of a money spinner for Hammer at this point and proved very popular with audiences, who were both scared and fascinated by the possibilities of science.
This film begins with the discovery of a mysterious alien ship beneath London and the subsequent investigation which sees Professor Quatermass (Andrew Keir) called in by the British army to offer an explanation as to what it is about.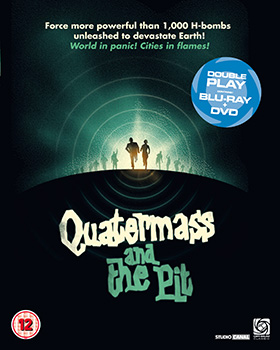 Director Roy Ward Baker was probably best known at this point for directing A Night To Remember (1958) – the 'other' film about the Titanic – and during the 1960s was also directing TV shows such as The Avengers, The Saint, The Persuaders! and The Champions.
He keeps things tight here and despite a couple of dated visual effects, the film is surprisingly ambitious in its ideas: unlike the little green men of 1950s US sci-fi, we are presented with the radical concept that man might have evolved from alien creatures and that we could be psychically connected with them.
Coming after a decade when alien invasion movies were essentially Eisenhower-era metaphors for communism, this was pretty radical stuff.
Quatermass is often seen as a weary Oppenheimer figure in opposition to the complacent military and its worth remembering that it was made and released at the height of the Vietnam War and a time of great social change.
Often genre films are ignored for their political subtext, but it is precisely because of this that they can be trojan horses for more serious themes – the Quatermass franchise reflects the fear and promise of science and this one is especially interesting as it seems to reflect an uncertainty and mystery.
As with a lot of the better sci-fi material in the 1960s (Arthur C. Clarke, Philip K Dick) it relied on the strength of its own ideas rather than epic scale and there is something quietly radical about a mainstream films questioning the historical origins of man.
Although sci-fi movies would take a quantum leap the following year with 2001: A Space Odyssey (1968), Quatermass and the Pitt marked out its own little corner of the genre and, like Kubrick's film, was also shot at MGM British Studios in Elstree.
Even though it stays in roughly the same location, Arthur Grant's visuals and Kenneth Ryan's art direction give it a more detailed look than one might expect and the Nigel Kneale screenplay skilfully juggles ideas with tension.
Keep an eye out too for Julian Glover as an army officer and compare his fate with the Nazi deaths at the climax of Raiders of the Lost Ark (1981); then ponder his casting in Indiana Jones and the Last Crusade (1989) as he also features here.
Was Spielberg a fan of this film, or was it just coincidence?
While some visual effects are not up to scratch – some alien bodies look like cardboard terrapins dipped in green paint – the difficulties of doing optical effects back then was a major handicap.
Despite this there is enough of here to interest fans of the film and genre, whilst Optimum have done a sterling job with the Blu-ray transfer, releasing this as a double play edition.
SPECIAL FEATURES
New UK exclusive interviews with Julian Glover, Mark Gatiss, Judith Kerr, Kim Newman, Joe Dante and Marcus Hearne
Audio commentary with Nigel Kneale and Roy Ward Baker
World of Hammer – Sci-Fi Episode
UK and US trailers
> Buy the DVD & Blu-ray Dual edition from Amazon UK
> More about the Quatermass character at Wikipedia