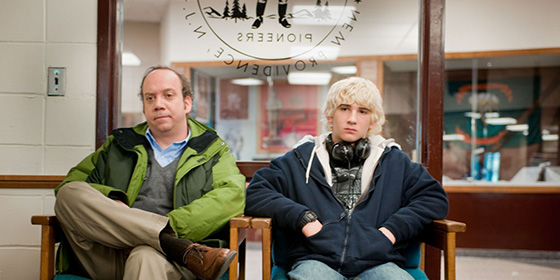 It contains familiar ingredients but the third film from writer-director Thomas McCarthy is a satisfying comedy-drama with brains and heart.
Set in New Jersey, it explores the ethical dilemmas of local attorney Mike Flaherty (Paul Giamatti), who also coaches a high-school wrestling team.
With his law practice struggling due to the recession, Mike keeps his worries from his wife (Amy Ryan) and two young daughters.
When an opportunity arises involving an elderly client (Burt Young) and his teenage grandson Kyle (Alex Shaffer), Mike sees a potential solution to his problems.
Similar in tone to McCarthy's previous efforts – The Station Agent (2003) and The Visitor (2008) – the film explores the bittersweet comedy that lies under the surface of everyday life.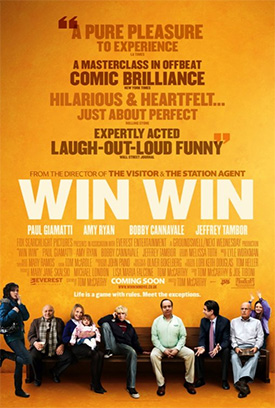 The main draw here is Giamatti and the actor fits the material perfectly, managing to convey the light and shade of a good man caught in a bad situation.
It is perhaps his most significant role since Sideways (2004) and it's a relief to see him in a lead role after the usual supporting turns he gets burdened with in bigger budget films.
The other stand out is Shaffer, a non-actor making his screen debut, who is note-perfect as an awkward teenage wrestling prodigy.
Solid support comes from Amy Ryan as his tough but supportive wife, Jeffrey Tambor and Bobby Canavale as Mike's friends and fellow wrestling coaches, and Melanie Lynskey as Kyle's absent mother.
McCarthy has a wonderful eye for character and he skillfully wrings out the comedy and drama, demonstrating without cliché or bombast how Mike's actions gradually affect everyone around him.
The humour of Mike's interaction with his friends and family is wrapped up with an unusual empathy for regular, small town life that is rare in the indie or mainstream realm.
Although the plot takes a while to get going in the conventional sense, but the slow-burn build up pays off well as it reaches its latter stages.
Contemporary New Jersey is evoked with impressive attention to detail: the legal office, gyms and houses are all convincingly realised.
Perhaps most impressively, Win Win does the simple things (acting, writing and direction) so well that you don't really notice them until after the story has reached its surprising climax and payoff.
It may have the familiar tropes of a US indie movie made inside the studio system after premiering at Sundance, Fox Searchlight are releasing it.
But with the avalanche of sequels, remakes and empty romantic comedies currently hitting cinemas, a film like Win Win feels like an especially rare treat.
Listen out too for 'Think You Can Win', a moving song by The National which the US band wrote especially for the film.
Win Win opens in the UK on Friday 30th May
> Official site
> Reviews of Win Win at Metacritic
> Thomas McCarthy at Wikipedia