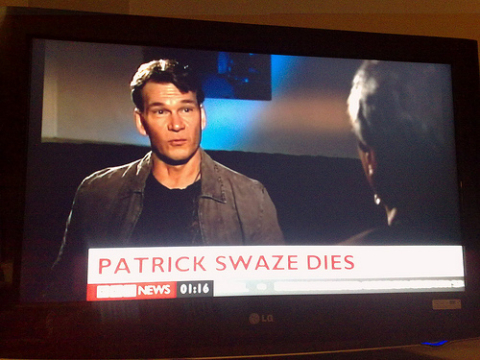 Patrick Swayze has passed away at the age of 57.
Although someone at BBC News missed out the 'Y' in his name (see above), the AP report:
Patrick Swayze, the hunky actor who danced his way into viewers' hearts with "Dirty Dancing" and then broke them with "Ghost," died Monday after a battle with pancreatic cancer. He was 57.

"Patrick Swayze passed away peacefully today with family at his side after facing the challenges of his illness for the last 20 months," said a statement released Monday evening by his publicist, Annett Wolf.

No other details were given.

Fans of the actor were saddened to learn in March 2008 that Swayze was suffering from a particularly deadly form of cancer.

He had kept working despite the diagnosis, putting together a memoir with his wife and shooting "The Beast," an A&E drama series for which he had already made the pilot. It drew a respectable 1.3 million viewers when the 13 episodes ran in 2009, but A&E said it had reluctantly decided not to renew it for a second season.

Swayze said he opted not to use painkilling drugs while making "The Beast" because they would have taken the edge off his performance. He acknowledged that time might be running out given the grim nature of the disease.
Swayze came to prominence in Francis Ford Coppola's 1983 adaptation of S.E. Hinton's novel The Outsiders alongside Rob Lowe, Tom Cruise, Matt Dillon, Ralph Macchio, Emilio Estevez and Diane Lane. In the mid-80s he also starred in Red Dawn, Grandview U.S.A. and Youngblood.
But he really found worldwide fame in 1987 with his performance as Johnny Castle in Dirty Dancing. As the son of a choreographer with a background in musical theatre, the role was tailor made for him.
The coming-of-age romance also starred Jennifer Grey as a young woman on holiday with her family who falls for Swayze's dance instructor.
It became an unexpected hit in the summer of 1987, spawning an Oscar-winning hit song in "(I've Had) the Time of My Life" and eventually becoming the most rented film of 1988 and the first video to sell over a million copies.
A major crowd pleaser, especially amongst female audiences, it went on to be an enduring cult phenomenon with reissues and stage musicals being performed well into this decade.
Swayze followed that up with the 1989 action film Road House in which he played a bouncer at a rowdy bar alongside Sam Elliott.
But it was his performance in 1990's Ghost that showed a more vulnerable side, as a murdered man trying to contact with his fiancée (Demi Moore) with the help of a psychic (Whoopi Goldberg).
He originally had to fight for the role (as director Jerry Zucker originally wanted Kevin Kline) but it went on to become the sleeper hit that summer at the US box office and it led to The Righteous Brothers' 'Unchained Melody' becoming a hit again (and forever being associated with a pottery wheel) as well as an Oscar for Goldberg.
In his career Swayze earned three Golden Globe nominations, for Dirty Dancing, Ghost and 1995's To Wong Foo, Thanks for Everything! Julie Newmar.
In the '90s, he starred in Point Break (1991) as a bank robbing surfer, but his career would tail off from the highs he reached in the 1980s, with a period in rehab for alcohol abuse.
In 2001, he appeared in the cult classic Donnie Darko, and in 2003 he returned to musical theatre in New York with Chicago; whilst in 2006 was in the London production of Guys and Dolls.
Swayze was married since 1975 to Niemi, a fellow dancer who took lessons with his mother; they met when he was 19 and she was 15.
According to People magazine Niemi is a licensed pilot who would fly her husband from Los Angeles to Northern California for treatment at Stanford University Medical Center.