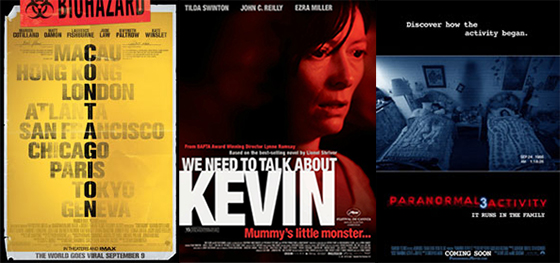 KEY RELEASES
Contagion (Warner Bros.): Director Steven Soderbergh's latest is an all-star disaster movie about a global killer virus – think Traffic, only with disease. Matt Damon, Gwyneth Paltrow, Jude Law, Kate Winslet and Jennifer Ehle star. [Nationwide / 12A]
We Need To Talk About Kevin (Artificial Eye): Director Lynne Ramsay returns after a 9 year absence with this adaptation of the Lionel Shriver novel about a mother (Tilda Swinton) who has to deal with an unusual son (Ezra Miller). Co-starring John C Reilly. [Selected cinemas nationwide / 15]
Paranormal Activity 3 (Paramount): The third installment of the low-budget/high profit horror franchise sees the makers of social media documentary Catfish direct. [Nationwide / 15]
ALSO OUT
Monte Carlo (20th Century Fox): Comedy about a teenager (Selena Gomez) who is mistaken for a British socialite and goes on a trip to Monte Carlo with her two friends. Directed by Thomas Bezucha, it co-stars Leighton Meester and Cory Monteith.
Restless (Sony Pictures): Drama about a teenage girl (Mia Wasikowska) who falls for a boy who likes to attend funerals (Henry Hopper) and sees the ghost of a Japanese kamikaze pilot. Directed by Gus Van Sant. [Selected cinemas / PG]
Reuniting the Rubens (Kaleidoscope Entertainment): Comedy about a Jewish man (Timothy Spall) who tries to re-unite his dysfunctional family in order to appease his ailing mother (Honor Blackman). Directed by Yoav Factor. [Selected cinemas / PG]
Judy Moody And The Not Bummer Summer (Universal): Comedy about a disgruntled girl (Jordana Beatty) whose boring summer is enlivened by a visit from her aunt. Directed by John Schultz, it co-stars Heather Graham.
Black Power Mixtape 1967-1975 (Soda Pictures): Documentary depicting the struggle for civil rights in the USA, resurrected from the vaults of Swedish TV. Directed by Göran Hugo Olsson. [Selected cinemas / 12A]
Blood in the Mobile (Dogwoof): Documentary about the connection between mobile phones and the civil war in the Congo. Directed by Frank Poulsen. [Selected cinemas / 12A]
> Get local cinema showtimes at Google Movies or FindAnyFilm
> Recent UK DVD & Blu-ray releases