Actor Tommy Lee Jones has filed a lawsuit against Paramount Pictures for $10m (£5.7m), which he claims they owe him for his role as Sheriff Tom Bell in last year's No Country For Old Men.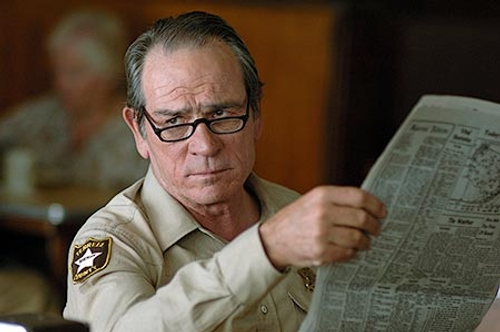 The Independent have the details:
Jones has filed his lawsuit in Bexar County, San Antonio.

NM Classics Inc, a Dutch subsidiary of Paramount Pictures, is also named in the action, according to The San Antonio Express-News. Jones, who won his only Oscar for his role alongside Harrison Ford in 1993's The Fugitive, claims that he has not been paid the bonuses he was promised and his initial fee for appearing in the movie was unjustly reduced.

He also claims that a contract was given to him despite the fact it contained several inaccuracies.

The 61-year-old says he signed a contract with NM Classics on 3 April 2006, agreeing to act in the film and to provide "additional related services" for promoting the movie.

In return, the legal papers allege, the company agreed that it would pay Jones a fixed "upfront" fee and, depending on its success, "significant box-office bonuses and 'back-end' compensation".

The vagueness of those promises has returned to haunt the actor. His lawyers claim he was promised "significant" bonuses to compensate him for his reduced fee.

No Country For Old Men was a co-production between Paramount Pictures and Miramax Films, with Paramount largely controlling the film's release and distribution outside the US.

Jones demanded that he, the Coens and the film's producer, Scott Rudin, should be entitled to the same treatment and equal shares of the box-office spoils.
Here is the interesting bit, which suggests someone in the Paramount legal department could be in trouble:
But the lawsuit claims that in December 2007, barely a month after the film was released in America, Paramount executives told Jones his contract contained a "mistake" related to "a major issue involving the deduction for home video expenses".

It also alleges that on 10 January this year, Paramount officials approached Jones again, this time with information about a second major "mistake" in his contract.

The veteran A-lister, whose career has been reinvigorated after a few years in the wilderness, says his "deception" at the hands of Paramount amounts to fraud.

A central plank of his legal action is a claim that Paramount invited him to sign his contract while fully aware of the flaws it contained.
In recent years there have been various high profile Hollywood lawsuits, such as Peter Jackson's issues with New Line Cinema over The Lord of the Rings, Clive Cussler – the author of Sahara – suing the producers of the movie adaptation and Randy Quaid taking on the producers of Brokeback Mountain.
One of the most interesting things about them – if both parties don't settle – is the juicy details that come out in court.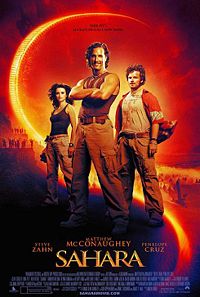 For instance the Sahara case revealed that the production budget was swelled by bribes to local crew in Morocco, according to USA Today:
Documents cited by the Times also listed 16 "courtesy payments," "gratuities" and "local bribes" totaling $237,386 in Morocco to expedite filming.

That included a $40,688 payment to stop a river improvement project while filming and $23,250 for "Political/Mayoral support."
The LA Times also reported this priceless court exchange about how much money the film lost:
Karen Baldwin [an executive producer on Sahara] testified that she believed "Sahara" was on track to make a profit.

"It was No. 1 at the box office when it came out," she said. "I have heard that over time the film is going to make its money."

Clive Cussler's attorney, Bertram Fields, informed Baldwin that financial reports showed that the movie lost more than $100 million.

"That would be one of the most massive losses in the history of the film business, wouldn't it?" Fields asked.

"No, not at all," Baldwin replied.

"Tell me a picture that lost more than $100 million."

"Heaven's Gate."

"Lost more than $100 million, is that your testimony?"

"I don't know."

"Well, why did you just say it?"
The fact that the court case contained better dialogue thatn the movie tells you something about the script, which ten screenwriters were reportedly paid $3.8 million for.
If Jones and Paramount don't settle will there be anything as entertaining?
> Original article in The Independent about the lawsuit
> Tommy Lee Jones at the IMDb