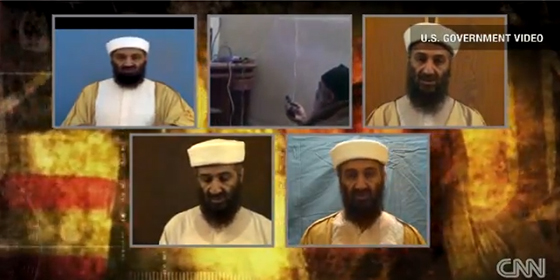 The US government has released previously unseen videos of Osama bin Laden, which include footage of him channel surfing satellite TV and out-takes from a propaganda video.
Last week a Navy SEAL team raided his compound in Pakistan, shot him in the head and dumped his body into the sea.
But whilst they were there, they also took a 'treasure trove' of information on the world's most wanted terrorist including computers and thumb drives.
Yesterday they released the first of the videos from the compound, with the sound turned off.
First, there is this four minute video of bin Laden flipping channels to watch images of himself on various news outlets:
Then there is this other video of him giving some kind of speech:
Plus, we get an outtake of a speech, which appears to have lighting problems:
It reminds me of this scene from True Lies (1994):
And also this unused scene from Four Lions (2010):
But the weirdest story to come out of these latest revelations is the news that Osama apparently watched the UK comedy series The IT Crowd.
Although I haven't seen any video evidence yet, creator Graham Linehan has tweeted:
"Does anyone have confirmation that Osama was watching 'The IT Crowd' in these home movies? Amazing if true. Don't know how to feel."
And then:
Still totally shocked/confused about #OBL #itcrowd news. Phone ringing every 5 mins w another journo asking for quote. Signing off for now
Mike Monteiro tweeted the following:
Yep, CNN is now reporting on the IT Crowd / Osama thing. You seeing this @Glinner?
Then Linehan replied back:
Yes, been advised not to comment ATM RT @Mike_FTW: yep, CNN is now reporting on the IT Crowd / Osama thing. You seeing this @Glinner?
Does anyone have any video or an image of Osama watching The IT Crowd?
UPDATE 09/05/11: Graham Linehan said he got hold of an unaired copy of the videos from the Irish embassy in Washington and has claimed that Osama was actually watching US sitcom The Big Bang Theory and not The IT Crowd.
But wait, apparently the whole thing is a hoax.
> CNN on the new videos
> Find out more about The IT Crowd at Wikipedia
> Watch all five Osama bin laden videos at Wired